I apologize to you ladies who left comments and I have not responded, for some reason the comments never reached my email, but rather was sitting in the queue here on blogger, so I finally approved them all and now I am responding to each on as fast as I can!
Christiana- I'll try and find some dupes for ya for the MAC lipsticks, I have some in mind but I gotta check the brand and color, so i'll get back to you on that one.
Sara- The indelible gel eyeliner is available on http://www.madminerals.org, I am also selling 2 BRAND NEW Indelible Gel Eyeliners (you can buy them separately); I have "Marcasite" a black with shimmer, and "Ivy League" a hunter green with shimmer. See below. Also I have not tried any products from Lumiere other than their healing concealer, lumi-lips, foundation (sample size), eyeshadow (sample size), and their brushes.
CherryBlossom- The Milani eyeshadows are really affordable! The singles go for anywhere from $2.49-$3.99 depending where you go, the quads I know are around $3 or $4, not more than $5.
_______________________________________________________________________________
So I got the Urban Decay Palette I was eye-ing, and since my boss gave me a gift card, I said why not! I am really digging the vibrant colors in this palette, I love how it comes with applicators, a mirror, AND the popular eyeshadow primer potion!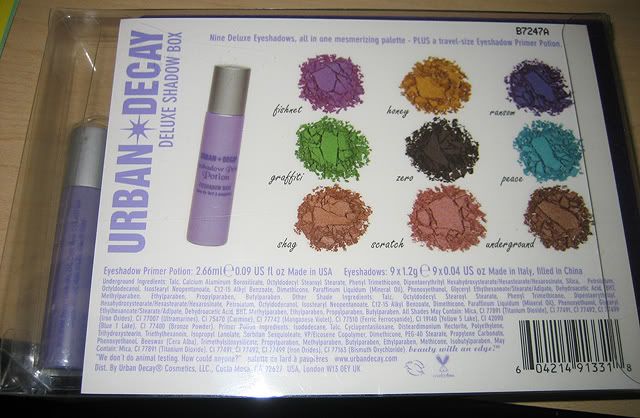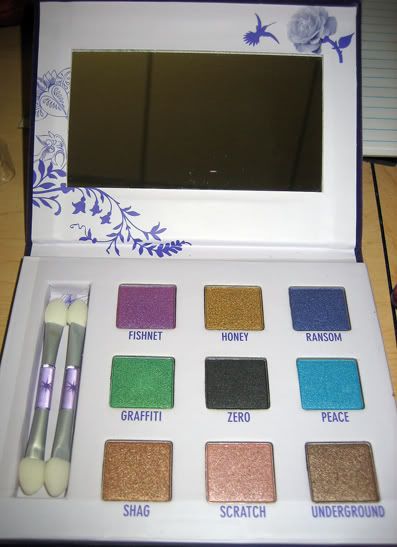 Swatches:

Also selling Indelible Gel Eyeliner in Marcasite, $12 including shipping (US Only).