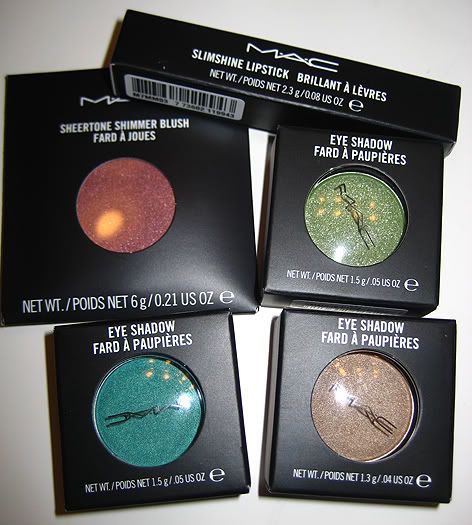 This collection is hot in general because it features my favorite shades of blues and teals. If you don't have any of these colors (doesn't have to be MAC), then I suggest you pick up "Cool Heat", "Gulf Stream" and "Blue Flame". For you neutral loving gals, "Solar White" makes a great highlight color, and "Warming Trend" is a gorgeous light brown taupe looking color with frost that's just so pretty!
This collection fizzled for me just because I have similar colors already (but like I said it's HOT if you don't have any of these colors yet!)
I went with Anne, and we went to the Topanga Mall to peep the newest collection out, of course our "favorite" girl was working (she's not really our favorite! LOL) but this MUA is this Asian girl who gives the best customer service to those who are NOT Asian! She will ask everyone in the store if they need help BUT Asian girls! I am not even kidding, she does this every time and gives us dirty looks; and it's other Asian girls she does this to also. Ugh she's really annoying because she always helps people who came AFTER us (rolls eyes). Anyway! Moving on, LOL…
Just off the bat observations, "Cool Heat" reminded me of a cross between "Parrot" and "Steamy", so I passed even though it's a gorgeous color, it's because I haven't even come close to hitting the pan with "Steamy" OR "Parrot" so what makes me think I am going to even use this often??! "Blue Flame" is like "Deep Truth's" long lost twin, they look eerily similar except to me,"Deep Truth" had a bit more of that lovely shimmer to it, while "Blue Flame" had more subdued shimmer.
I love the frosty neutral of "Warming Trend" and I think paired with "Magnetic Fields" from the Neo Sci-Fi collection would be the perfect union! Can't wait to try it out! "Solar White" is a nice highlighting color, I am not really into overly shimmery white eyeshadows because they make me look weird, but this one is pretty. "Warm Chill" was my least favorite of the bunch, it didn't have that much pigmentation in my opinion and reminded me a lot of Milani's "Sea Angel" eyeshadow. I wanted the pro-pan refill of "Swimming" since I ran out, but they didn't have any more of the refills so I ended up getting the one in the pot.
I also bought a pro-pan refill of the "Flirt & Tease" blush. After seeing it on Mimi months and months ago because she looked ravishing with it on, I had to have this in my blush palette! (Some of you asked whether I am selling any palettes, and I am NOT, I sold them all already!)
Surprisingly, my prediction was that I would get most of the eyeshadows and the Slimshines, but I didn't like ANY of this collection's slimshines. Don't get me wrong, I LOVE, LOVE, LOVE Mac's Slimshines, however the colors in this collection were sorta bleh to me, so I passed (which is good for the wallet!), and instead I got a Slimshine in "Pleasing" from the permanent line which is super pretty! It's like a rose-fuchsia pink with subtle shimmer, I love it!
Here are pics!