I had a few readers ask me about storage and how I store my makeup and other junk, as well as a few who wanted to know what's in my makeup arsenal…so I combined a bit of the two…I was too lazy to take a pic of every single thing because it's just a massive amount of junk I have accumulated over a period of time, so there are a few things missing (i.e. makeup brushes, moisturizers, paint pots, etc.) I have since added quite a few necessary brushes to my collection since my last post on brushes, so I'll do another post soon on the brushes I have as well as its uses.
I know some of you are wondering whether I actually use all of this stuff, and I actually do, of course not all at once, but I do switch off every now and then, sometimes I just wanna use MAC eyeshadows, MAC eyeshadows with mineral eyeshadows, or just mineral eyeshadows, I pretty much rotate among all my blushes so I use those frequently and the same goes for lipsticks and lipglosses. Of course there's what I call "The Forgotten" which is just some random things I DID use and just forgot about it, and think i'll use again. Of course I throw some stuff out that I know I will never use again or have surpassed its shelf life. I mostly use my paint pots, eyeshadows, and mineral cosmetics.
Most of the items are also things that were either given to me by friends as gifts, or products that were sent to me to test out and write a review. Some items are brand new and are either going to be on my online store (which WILL be the same URL as this site, it's my blog and the store is a link within my blog), or items I am holding for a future contest. The BF says he is "always surrounded by makeup" lol because everywhere you turn at our place- is makeup! And pretty much anything I can fit things in serves as my makeup storage, haha.
As you can see, I like everything organized, so everything is labeled accordingly (you can find a labeler pretty much anywhere, officedepot, office max, staples, target, k-mart and more), this helps me find things easier and keep everything together…the plastic sterilite drawers I got from Wal-Mart, I find they have a better selection than any other place. **Pics taken with Canon SD750**

My messy makeup station which was on my to-do list to clean!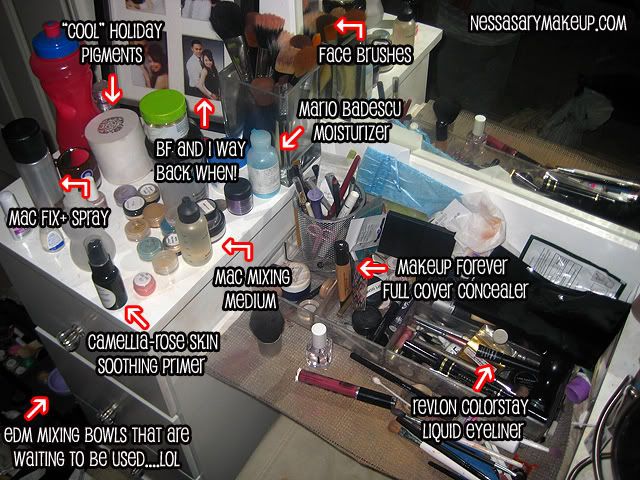 It has grown since last year (pic of collection last year):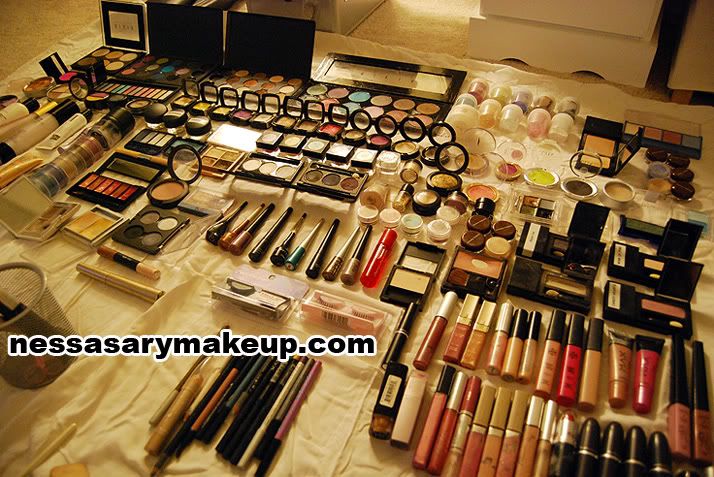 First Set of Drawers: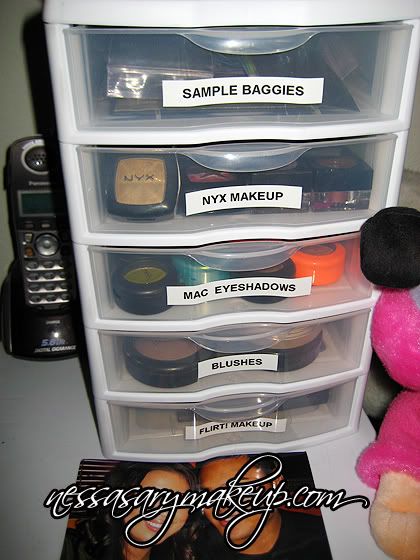 First Drawer (Baggie Samples):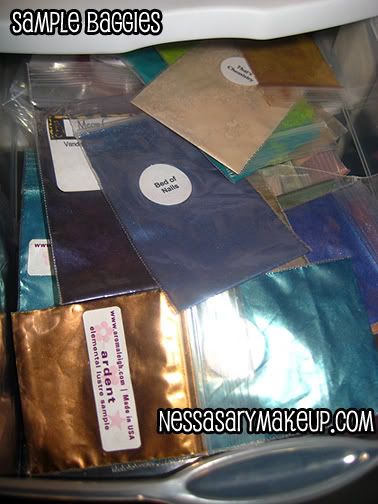 Second Drawer (NYX Makeup such as single and trio eyeshadows, chrome eyeshadows, ulta pearl mania loose powders…):

Third Drawer (MAC single eyeshadows, boxed e/s and StudioFinish Concealers, Milani single e/s):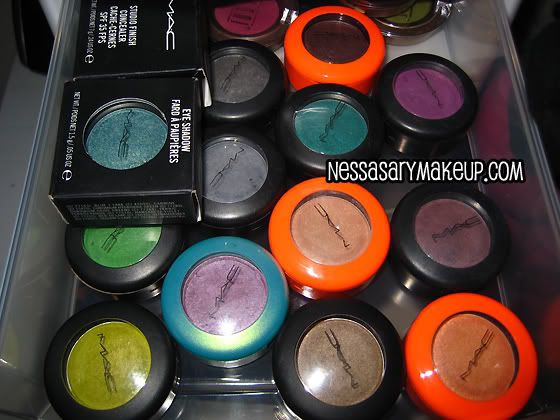 Fourth Drawer (some potted blushes, various brands):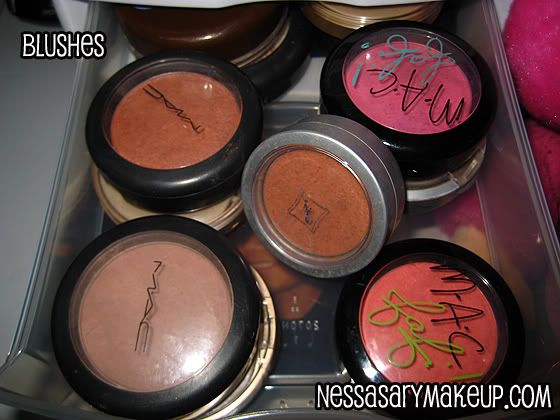 Fifth Drawer (not pictured, but features single Flirt! eyeshadow compacts)
Second Set of Drawers (Mineral Sample Jars, False Eyelashes, Lipsticks and Lipglosses):

First Drawer (Mineral Sample Jars):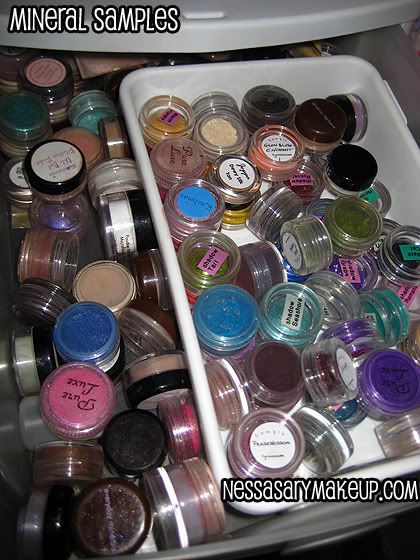 Second Drawer (Falsies, which I rarely use):

Third Drawer (MAC and NYX Round Lipsticks, Laquers, Chromeglasses, Lipglasses, and more!):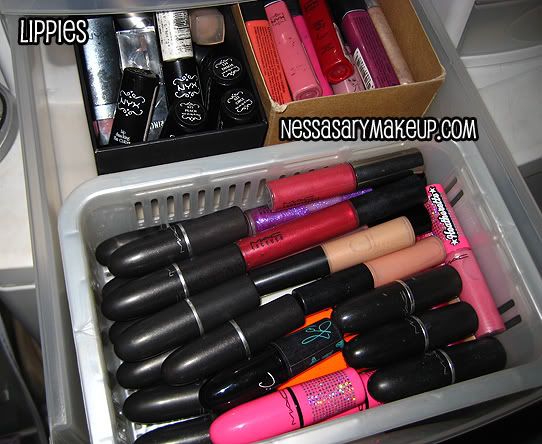 And there's more lipsticks underneath! What can I say, I love lipsticks!

MAC Mattene in "Immodest" and Slimshines (yes I've been good to keep it at 3!):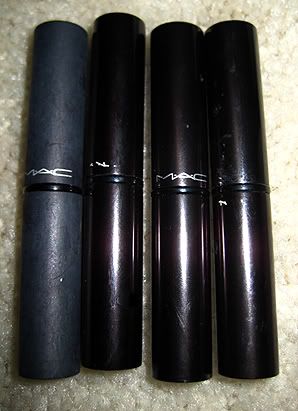 Third Set of Drawers (Hair Clips, Palettes, and other Miscellaneous junk!):

First Drawer (Hair Accessories…can you tell I love flowers??!):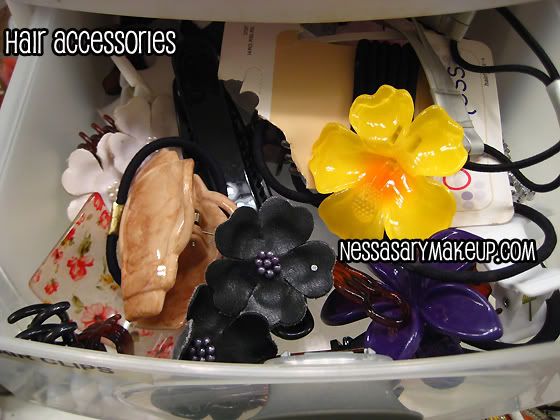 Second Drawer (Various brands and types of palettes, NYX, eyeshadow and lip palettes):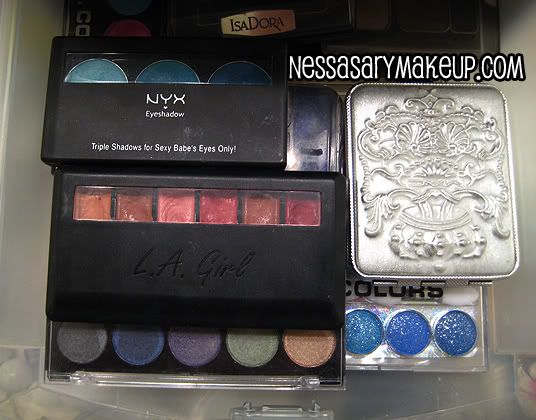 Third Drawer (The forgotten):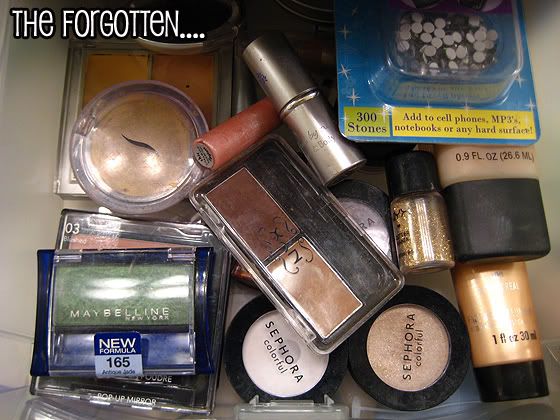 Mineral Foundations (I don't know why I have so many either…):

My MAC Pigments…my pride and joy, lol.

MAC Palettes and other brands of palettes like Ben Nye, Nixie (ULTA eyeshadows in these palettes), Urban Decay, etc.: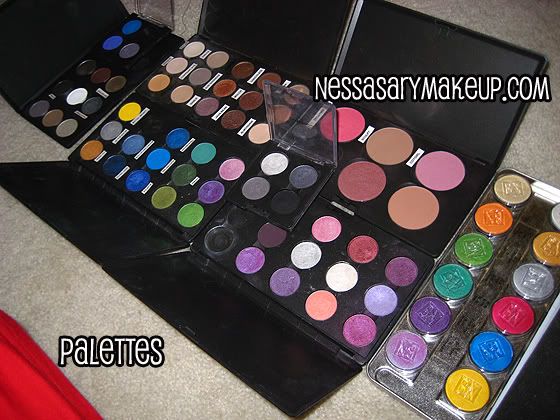 Haven't finished labeling some of them since I keep moving them around…

Pile of other junk, Milani Wet/Dry eyeshadows, MAC Mineralized Eyeshadows, Mineral Blushes, and other stuff…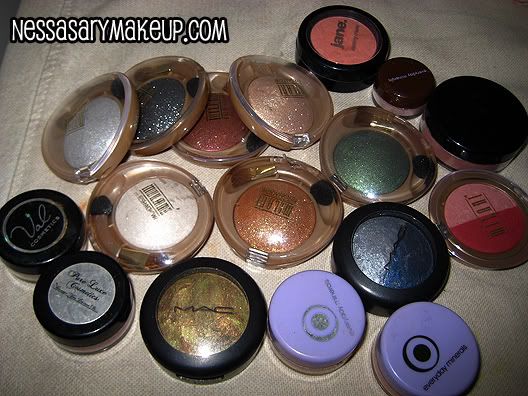 Some of my nailpolishes, I will do another post on them soon, but from memory, the ones on the left are China Glaze "Purple Panic", Color Club "Pink Flame", China Glaze "OMG" (gorgeous holographic nailpolish as you can see!), China Glaze "Turned up Turquiose", and Essie "Boat House" (and I forgot the others):

And of course…my bodyguard for all my makeup, LOL, Boo from Monsters Inc!