I have actually been preparing for this blog 3 days ago, just haven't had time to really post it due to photography! Ironically enough, this post has A LOT of pics!

p.s. I know this is totally off topic, but soon I am looking for people who I can shoot to add to my photography portfolio. I am still nervous to shoot people, but I gotta start somewhere right??? I would ask all my friends, but none of them wanna do it haha. So if you are interested, let me know and we can shoot. You will also get a copy of all your pics on a CD. Be patient with me though because im a newbie!
Ok, so I got a lot of emails from gals who loved the tutorial on smoky eyes, but would have loved it if I posted actual pictures (duh Vanessa), so here we go!
What I used:
– Stila Eyeshadow in "Chinois"
– Sephora eyeshadow in White
– Revlon's Colorstay Eyeshadow in "White Whisper"
– Flirt Cosmetics Eyeshadow in "Black Ivy"
– No name brand black glittery eyeshadow
– NYX Loose Powder eyeshadow in purple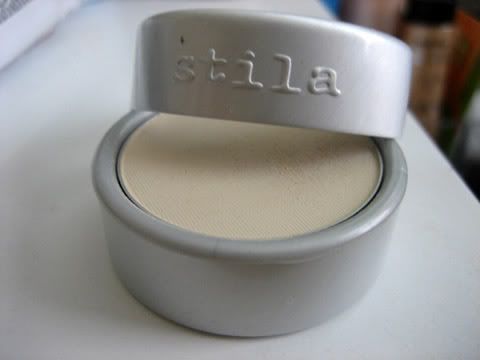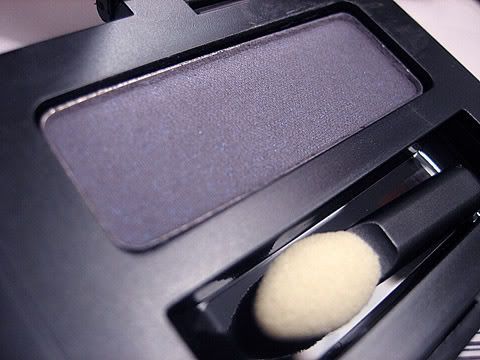 Step 1:
A great start is to "prepare" your face, if you are new to reading my blog, I always use a makeup primer, then add my foundation, then finish it with concealer over my eyes and under my eyes to do two things: help hide dark circles, and prep the lids for the eyeshadow. Use a cosmetic wedge sponge for application to give it more of a matte finish so that it holds onto your eyeshadow.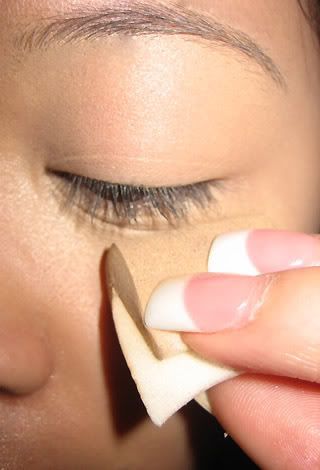 See how bright the right eye is compared to the unconcealed eye to the left?(well really my left eye, but right eye to you guys haha)



Step 2:
Apply your base color (a light highlighting eyeshadow), ALL over your lid up to the brow bone as shown. This also gives the illusion of larger eyes.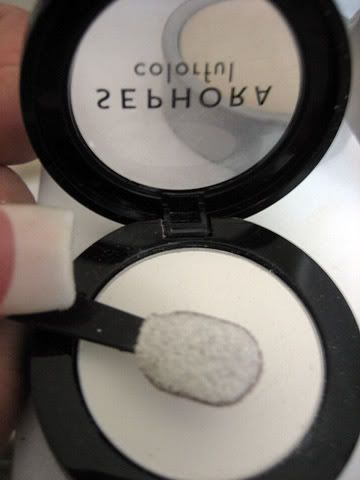 Step 3:
Start by using your black, or dark colored eyeshadow of choice, I used Flirt Co. in "Black Ivy" and a black glittery eyshadow, then using a SPONGE TIP APPLICATOR, apply from your lash line to above your crease, depending on the size of your lids. *The reason I suggest using a SPONGE TIP applicator instead of a makeup brush is because it gives you more control when you are applying the eyeshadow to your lids and is also less messy, hence less eyeshadow you gotta clean up on your cheeks.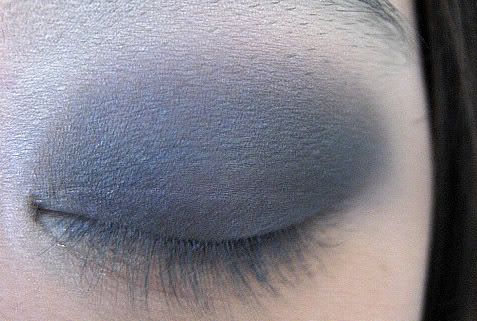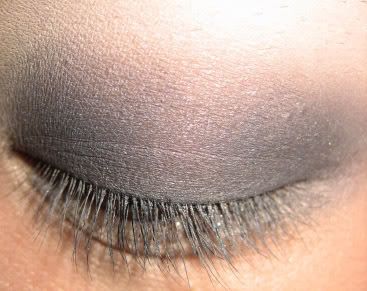 Often, eyeshadow will fall on your cheeks as you do this, you can use a kabuki brush to wipe it away, or you can put a piece of paper to "catch" the eyeshadow that falls as pictured below: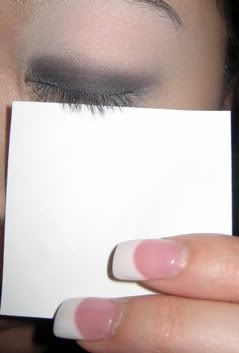 To give my smoky eye look more depth, or a more sultry look, I added NYX loose eyeshadow in purple, which gave it a nice deep black glittery look so it wasn't so "gothic".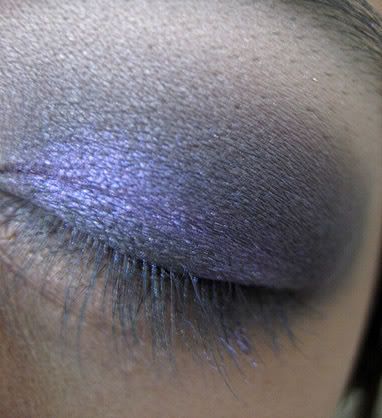 Step 4:
Then I added black eyeliner. TIP: To make your eyeliner stay on longer as well as making it really black, I first use Revlon's Colorstay Eyeliner PENCIL to outline my lashline, then go over that line again with Revlon' Colorstay LIQUID eyeliner.
Then I put a few coats of black mascara…and added some false eyelashes for an awesome look.


Natural lighting:

Step 5:
Then I lined my lower lash line with the same black ivy eyeshadow with a smudgebrush.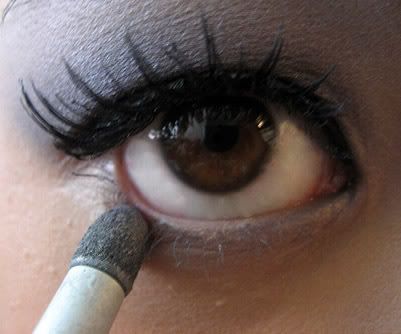 See the difference?


I forgot to take a whole face picture so you can see how it looks like, sorry, I was so caught up with just the eyes I forgot.