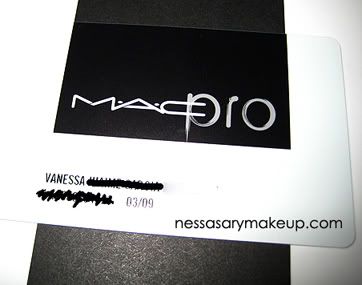 Q: How to get a MAC PRO card, etc…
A: Must provide proper documentation such as a makeup or cosmetology student, and the like, please go to the http://www.macpro.com website for more information and what is needed.
Q: Vanessa do you still have an online store or are you/will you be selling stuff?
A: I do not have an online store nor will I be selling much since it's a bit of a headache because people would say they want to buy and then they don't, and if something breaks during transit it's another headache because once it leaves my hands it's out of my control (and it is bubble wrapped and has fragile or handle with care on it), and people then want a refund and it's a bit unfair to me because I still have no money and no product. Now if I was a store and had more than one item of the same product, I would happily replace it; but because I would sell things simply because I don't use them anymore and to help those of you who don't have easy access to such items,(not to solely make a profit). I was losing more of my own money trying to service others. Also there were those that felt the need to complain about prices- if you don't wanna pay a certain price then simply look elsewhere simple as that. And lastly, because I don't have the time to do custom purchases or even ship any items.
Also, some of the items that were being sold that were MAC were items I personally bought BEFORE my pro discount, meaning yes I paid FULL price for them, and some of them were also items from my friend Erica who had a few things she hasn't used and wanted to sell- but of course with every success, there's someone that tries to take you down without knowing all the facts, but they didn't succeed.
I have a few friends that probably do have a few things to sell but since none of them don't dwell online much, many of them don't know what paypal is and how it works, therefore I was selling some on their behalf and just giving them money out of my own pocket if anyone bought anything they were selling, but I believe they are making their own little blog so you can feel free to buy stuff from them in the near future….


Q: I saw you were born and raised in Toronto, so how did you get to move to California, for instance was it difficult to apply for a visa and such?
A: My mom was born in Hawaii, and because I was born in Toronto, Canada; I have/had dual citizenship so I was both a Canadian and an American citizen and I am now free to move about the country! LOL. I came to California because my grandma was diagnosed with breast cancer and had a mastectomy; and to help her through a difficult time, my family sent me to California first to attend school, and they followed 6 months later.
Q: Is your lips naturally pigmented? I kinda have the same skintone as yours, but my lips are mauve pigmented. So, most colors look diff on me unless I put lip base/concealer.
A: My natural lip color is a very pale light pink, but I still use a lip base at times such as MAC l/s in "Myth" or MAC Lip Erase to neutralize color to truly capture the effect and color of the lipstick or lipgloss I am wearing.
Natural Lip Color, no chapstick, nothing: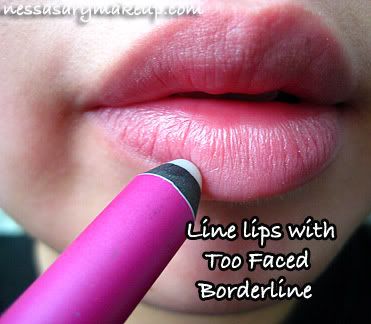 Q: I hear many claims that the Ly-Na Pearl Cream contains mercury in it, what are your thoughts on this?
A: Many people have asked me about this product containing mercury, and I personally have not found anything on the actual box or online to support that claim, other than just hearsay; nor have I personally have had a bad experience with it for me to think it does, considering I have really sensitive skin. Of course I do not condone the use of this product if it DOES indeed contain mercury, but until the proof is in the pudding I am still using it (luckily I don't use it often to begin with!)