I have been getting some requests as to what my daily skin regimen is, it has since changed since I last posted it a few months back, since I am now a little more ingredients cautious and am currently concentrating on more holistic, natural, or even just mild remedies rather than the ones you find in the drugstore. As crazy as it sounds, my skin regimen is actually REALLY simple and doesn't take a lot of time out of the day or materials either.
I naturally have a baby face in which it's soft and delicate like a baby's skin (sensitive) and my pores are invisible. My skin can be somewhat dry overall, but with seasons I can have an oily t-zone. I rarely break out, but I do get a pimple every now and then if I get careless with taking care of my skin. I notice the less products you use, the better. Also DO NOT overwash your face as that just cleanses your pores stripping your skin of it's natural oils and hence allowing more bacteria to harbor in your pores. In between washings I like Neutrogena's Makeup/Face Wipes (the blue box), or lately, Everyday Minerals Face Wipes.
Again, this is just MY skin regimen, it works great for me because I don't have a lot of blemishes so I don't really need or use a lot of products, just good 'ol face washing to maintain it. So if you do decide to follow any skin regimen, not just mine, be cautious as some products may not work for you.
Castile Oil and Sample of Calamine Bar Soap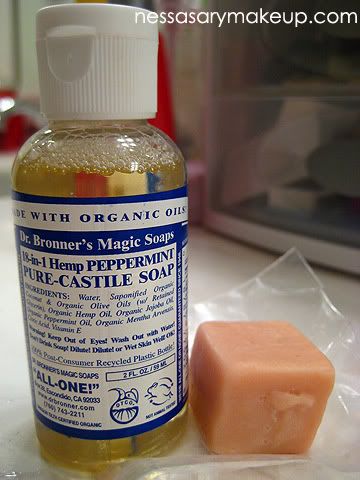 Here are some of my favorites (not in any particular order), but just some products I have used in the past as well as recently: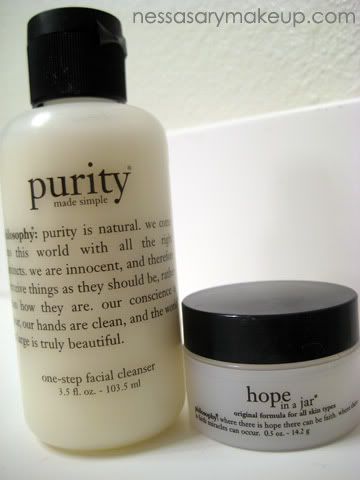 Cleansers:
– Philosophy "Purity" Cleanser, so far so good, only used it 3 times, but it doesn't dry out my face like other cleansers do, also it didn't break me out as of yet like some people have observed when using this product.
– Calamine Soap Bar (www.pureluxecosmetics.com)
I LOOVVVEEE this stuff! Smells great, very mild and gentle on the skin, and it really has cleared my skin up as well as prevent breakouts and keep existing pimples at bay without causing them to reach cystic acne stage.
Pure Luxe describes this wonder soap as: "This soap is excellent for troubled skin. Full of beneficial ingredients all designed to aid and soothe. Made with premium oils such Shea Butter and Emu Oil. Calamine powder (zinc oxide & iron oxide) for its soothing effect, chamomile and hibiscus for soothing anti-inflammatory properties and mild astringency, rose geranium essential oil to help balance sebum and to keep skin supple. Tea tree essential oil for its anti-bacterial and anti-acneic effects, and chamomile essential oil to help soothe irritated skin."
Ingredients: olea europaea (olive) fruit oil, water, cocos nucifera (coconut) oil, calamine powder, ricinus communis (castor) oil, bytospermum parkii (shea) butter, sodium hydroxide, emu oil, matricaria recutita (chamomile), hibiscus sabdariffa (hisiscus flower), anthemis nobilis oil (chamomile essential oil), melaleuca alternifolia oil (tea tree essential oil), pelargonium roseum asperum oil (rose geranium essential oil), sodium lactate, silk fiber
– Oil Cleansing Method (more in depth detail of this method can be found on Lynne's Blog or Christiana's Blog), in which this method is effective as it cleans off your makeup without stripping your skin of its natural oils and leaving it soft and supple. I like this Peppermint Castile Oil I bought from CVS, smells so minty fresh!
Toners:
– I use toners probably twice or three times a week, I like Sea Breeze Toners or Witch Hazel.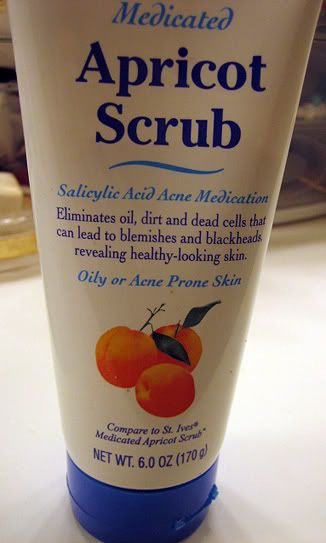 Exfoliators:
– I use several scrubs, St. Ives Apricot Scrub, Jason Natural Face Scrub, etc. I exfoliate twice a week. This is nice to do since it gets rid of dead skin cells and leaves you feeling like you have brand new skin!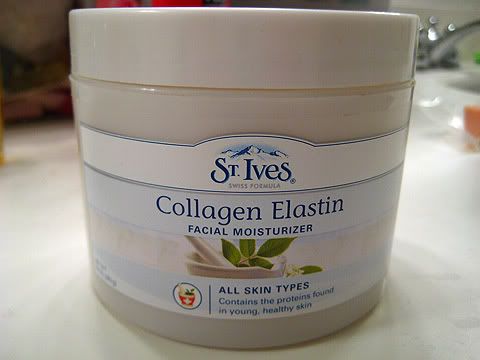 Eye Cream:
– I wanna try MAC's Moisturelush, I am currently using Neutrogena's Eye Revitalizer, it's okay, not my favorite….
Scar Removal:
– Mederma works!
Moisturizers:
– St. Ives Collagen Elastin, very light-weight moisturizer, not greasy.
Energy Waters:
– Aquafina Facial Hydrating Spray is lovely, contains Vitamin E and Jojoba Oil. Great as a refresher throughout the day as well as a leave in moisturizer. Wal-Mart, $4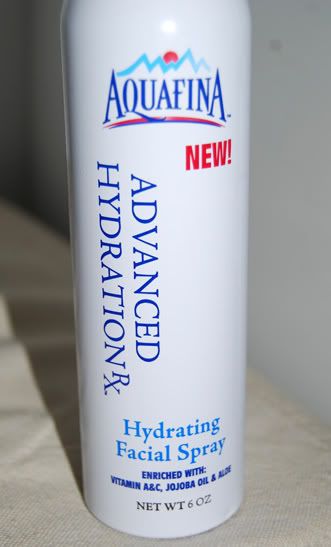 REGIMEN:
MORNING (AM):
– Spray Aquafina Face Spray, let it sit. If my face is feeling too dry, then I dab 4 dots of the Collagen Elastin Moisturizer on my face (forehead, cheeks, and chin), then I apply my PRIMER and of course apply my makeup from there.

EVENING (AFTER WORK sometimes):
– I refresh my face with Neutrogena Face Wipes for a quick pick me up by just gently dabbing it on.
NIGHTTIME (PM) BEFORE BED:
– Apply Peppermint Castile Oil all over my face, concentrating on dry areas, then using a face cloth I soak it with tolerable hot water and wring it out, then apply it on my face as in Lynne's demonstration, the steam from the cloth on your face is such a nice treat after a hard day at work!
– I then wash my face with the Calamine Soap Bar which I love! I really believe this bar of soap has made such a difference in the texture and look of my skin.
– Use wipes to wipe off any excess makeup.
– Apply eye cream or on super dry days, Vaseline on my lids and undereye (It doesn't cause pimples or anything for me).
– Apply moisturizer (Collagen Elastin)