Click on the pic to go to the website!
****I have been reading ALL your questions and I will answer them soon (such as the Starflash eyeshadows and YES the color payoff is awesome on MOST of the colors, however on some of them (ahem, "lotusland") are a bit TOO sheer to where they don't show up on my NC30 skin even after 10 swipes! They are very similar to "Veluxe Pearl" and "Frost" finishes in my opinion, and I was told that "Flash" finish is actually going to be a new finish MAC is coming out with. But I will get more into it soon along with my review of the Lustre Twins****
I love great, down-to-earth people, who have such a big heart in general; and when you mix that in with owning a business, you get awesome customer service. Robyn from PurelyCosmetics.com reached out to me and we exchanged a few emails, and in a matter of days I felt like i've known her for years! She also lives near my city! She is just such a nice and helpful person!
She sent me some exciting goodies such as a 22-eyeshadow sampler that had a wide array of colors to suit anyone, and a few blushes and foundation samples. I was very eager to try her Skin Smoothing Foundation and I love it! It goes on like a dream for dry-skin gals like me, AND I think I found my perfect match in "Olive Beige". I want to try the other shades she sent me, and I just may have to order a full size of it because it goes on like a dream and has build-able coverage. The store has so many items to shop for, makeup brushes, Parian brush cleaner, and the Beauty Blender Sponge!
ANNNNDDDD…..to start the month of August right, and to say a big "thank you" to all of you lovely ladies (and maybe gents?) who read my ramblings everyday, you can use the code "nessasary" to get 15% off ANY order over $20! So what are you waiting for??! Go and shop!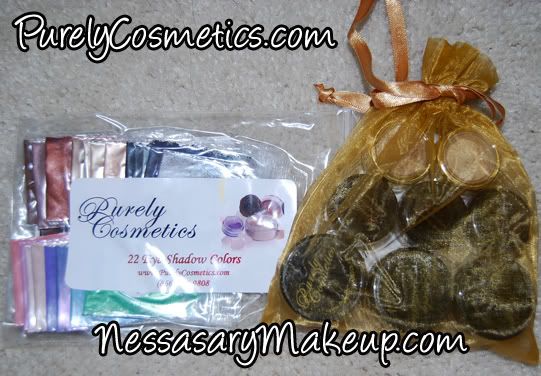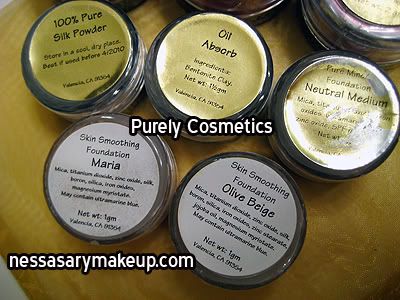 CLICK ON PIC TO SEE DETAIL AND NAMES OF THE COLORS: