Product: 5 out of 5
Packaging: 5 out of 5
Quality: 4 out of 5
Overall: 5 out of 5
Shade I bought: "Naked"
Where to buy: Target, Target.com
Price: $8.99
Would I buy again? Yes
*For ingredient information CLICK HERE.

What it is: Sonia Kashuk's Barely There is a loose powder makeup that comes in a jar with a sifter and powder puff. There are various shades (unfortunately I couldn't find a full list of the shade colors since many of the shades are out of stock on Target.com).
What I use it for: "Naked" is a translucent shade, similar to the MUFE HD Powder and MAC Pro Setting Powder (will review soon!) in the sense that it goes on invisibly to help set makeup. It looks like a pale peach or yellow in the jar, but it goes on clear. I use it under my eyes like shown in my makeup application steps post to help set my concealer under the eyes as well as providing a layer to help catch fallen eyeshadow that I can easily brush away.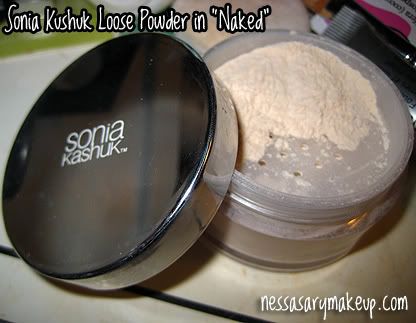 PROS:
– VERY affordable! Only $8.99 (could be less or a few dollars more in some places) but nonetheless it is MUCH cheaper as oppose to the MUFE HD Microfinish Powder which is $30, or the MAC Setting Powder (Pro) for $21.
– Works great at setting makeup just as good as other similar products.
– Has a cream/beige tint so it blends well with my skintone, even though it's invisible like the MAC and MUFE powder, it definitely makes it even more flawless.
– Easily accessible if you have Target stores near you.
– Comes with a powder puff for touch ups, easy to travel with, no mess.
CONS:
– None so far….
Overall: I like it, it's a nice alternative to higher-end finishing/setting powders and I like how it's easily accessible to me (at Target stores). I like that it also comes with a mini powder puff to blot away excess oil or for touch-ups. And in this economy, I LOVE the price!