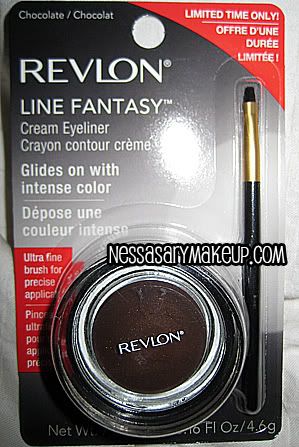 Product: 2 out of 5
Packaging: 5 out of 5
Overall: 3 out of 5
Would I re-purchase? No
Price: $10, Walgreens
I first introduced this product a few posts ago, and finally tried it a few days ago…I wasn't happy with it. First of all, I have been using MAC Fluidlines, Revlon's Colorstay Eyeliners (both pencil and liquid form), and Indelible Gel Eyeliners from Mad Minerals, and NONE of them are TOO creamy in the sense that it's hard to apply in one motion, nor do they crease like crazy.
Many of you have asked what my favorite eyeliner is and I really don't have one, it really just depends on what I feel like using that day, if I am in a hurry, Revlon's Liquid Eyeliner does the trick and stays on without flaking, I love the smooth and lasting application (as well as how long it lasts for a tiny jar!) of the MAC Fluidlines. The Indelible Gel Eyeliners are a great alternative to the MAC Fluidlines, however they are SUPER tiny and they dry out really fast.
In terms of preventing smudging (another frequently asked question), you can try powdering your lower lashline to absorb oil and then lining your eyes. I like to just line my waterline or line my lower lash line and smudging it on purpose for a soft smokey look. An eyeliner sealant also seals the deal to help make it last longer and prevent a lot of smudging.
I tried applying the Revlon cream eyeliner like you normally would with any cream or gel eyeliner; first with the tiny brush it came with (which also sucked), so then I used my own eyeliner brush and I had to apply it like 5 times to even get an even amount of color because it was streaking across my lashline. It also didn't dry as fast as other gel eyeliners such as the Fluidlines. (I have NOT tried L'Oreal's HIP eyeliners, so I wouldn't know how they compare).
I then tried it with Silk Naturals's Eyeliner Sealant, and it seemed to do the trick and made it stay without creasing.
PROS: Using this with an eyeliner sealant makes it a cream eyeliner you can work with, it's inexpensive and comes in brown, purple, black, and blue. Available at drugstores that carry brand new product collections.
CONS: Creased like crazy for me and I don't have oily eyelids either! Takes a few applications to get an even pigmented line.
Overall: I am so accustomed to how well other eyeliner perform, such as the Fluidlines, Indelible Gel Eyeliners, and even Revlon's other line of eyeliners, their colorstay eyeliner pencils or liquid eyeliners work really well. However, I would not re-purchase this as I would rather just get something else that I don't have to struggle with to stay on or give me a continuous even line of color.