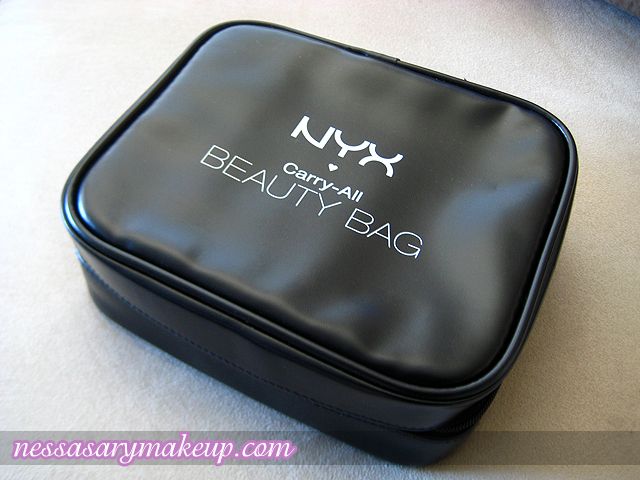 Product: 5 out of 5
Quality: 5 out of 5
Functionality: 5 out of 5
Price: $25, CherryCulture.com
Would I recommend? Yes

As Beauty Editor for CherryCulture.com's Insider Picks, they were graciously kind to let me do a review on some of NYX's newest products! So I will be posting about each product separately, but here is a sneak peek of product reviews to look forward to: NYX Makeup Remover with Green Tea Extract and NYX The Runway Collection Eyeshadow Palette in "Velvet Rose".
But for this post, I will focus and review the nifty NYX Carry All Beauty Bag. I love a good makeup/travel bag that is multi functional with many compartments, as well as being light enough to tote around, whether you are doing a weekend getaway or getting on an airplane, it's nice to have something that isn't bulky or heavy, but can hold all your essential items.
Meet the NYX Carry All Beauty Bag.
It's such a cute sturdy little black bag with a handle and can hold a lot of your makeup and travel goodies. The material feels nice and smooth, like faux leather and it has 7 brush holder compartments covered by a flap to hold your essential makeup brushes or mascara, and the flap that covers it is great for protecting your brushes from getting dirty or ruined. The flap itself has a deep zippered pocket to store things such as eyeshadow applicators or Q-tips, and also has a little pocket to store business cards for makeup artists on the go.
It also has 2 removable zippered pouches, each having one mesh side and one clear side so you can easily identify your items; they are held in the beauty bag by two snap-on buttons so you can easily remove and attach as you please. I think these removable pouches are great to store travel items such as a toothbrush/toothpaste, Q-tips, so you can easily take with you to the bathroom, or ideal great for holding blushes, pigments, and more. The other end of this nifty beauty bag is a large mesh zippered pocket which I use to store my NYX Green Tea Oil makeup remover, as well as other items such as my primer and moisturizer. It's also a great sidekick for your current makeup bag or case, or for makeup artists who can use this bag to carry extra items such as bobby pins, makeup wipes, etc.
This will definitely come in handy when I go to Washington for Christmas to visit my parents and sisters!
[CLICK ON PICS TO ENLARGE]
Has a handle: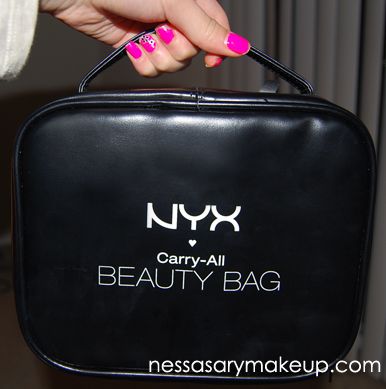 The bag zips opens from the bottom: