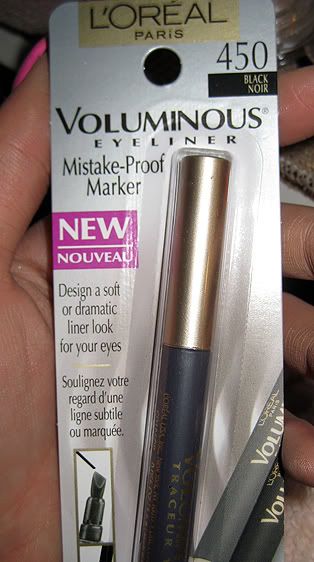 Product: 4 out of 5
Packaging: 5 out of 5
Overall: 4 out of 5
Price: $7-$9, CVS Pharmacy, any drugstore
Color: Black
What they say: Design a soft or dramatic liner look for your eyes with L'Oreal's Voluminous eyeliner in a mistake-proof marker.
I am a sucker for eyeliners, I know when it comes to us Asian gals, many say eyeliner makes our eyes appear smaller, but for me it's the opposite, eyeliner makes my eyes look bigger (I will show you a pic oneday haha), without eyeliner I think I look sleepy…so when it comes to buying eyeliners, I like trying them all. I went into CVS and picked up the L'Oreal Voluminous Eyeliner, I was intrigued because it was like a marker and reminded me of the eyeliner pens like Physician's Formula Eyeliner Pens which also worked great but dried up fast.
PROS: It's pretty neat, it has a chiseled felt-tip, just like a marker, making it easy to line the eyes from the inner corner out. The flat part can be used to line, and the pointed part can be used to wing out your eyeliner. The fluid itself is like regular liquid eyeliners and stays on all day. I love it because it's my "makeup bag eyeliner" that stays with me in my purse for any touch-ups, and since it's like a marker, it's a good space saver.
CONS: None!
Overall: It's pretty neat, if you are looking for a cheap but good eyeliner that will last, give this a try!