Seems like the person that stole some of my pics took her site down, so thanks to you all who took the time to drop in your 2 cents. The way I see it, the internet is a small place, it's only a matter of time before these people get caught with work that's clearly not theirs. I just don't know how I could gain satisfaction knowing I had no hand in ANY of it, if I was that person. It's like someone saying, "You were great in "Twilight"! And I responded with "Awww thanks!". LOL. But thanks to those of you who come across these sites and let me know. In case you ever wonder if it's really my site, there are links on the right of this site where you can find me (YouTube, Myspace, etc.) the only links I have not posted up are Facebook, Friendster, and LinkedIn because they are mostly professional in relation to my work. But those are pretty much the ONLY sites I have. So anything else you see, is most likely not mine.
I've been busy trying to find a venue for my sister's Debut, her 18th birthday party; since she is having it here in California (rather than where they live, in Washington), because all her friends are here. Of course everything is out of my parent's price range, LOL, but I am sure we'll find one she'll like. She took her SAT's today and it hit me that she really is growing up, as it seems like yesterday I took mine at El Camino High School. I am so proud of her though, she is an incredible kid and it's gonna be amazing to see the youngest one create her own path as well.
I will also be doing some reader questions soon since many of you had questions on some of my recent posts….
Anyway, on to the product review!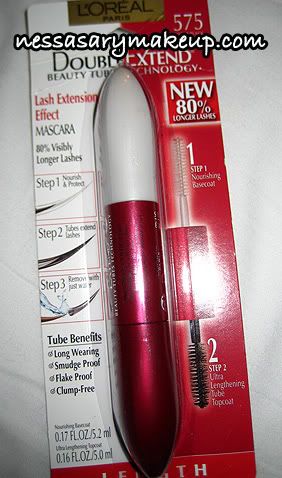 Product: 4 out of 5
Packaging: 4 out of 5
Quality: 4 out of 5
Overall: 4 out of 5
Price: $7+ CVS, Walgreens, Target, etc. (Blackest black)
Would I buy again? Yes
What they say: This revolutionary lash extention mascara helps make your lashes look healthier and longer in seconds. This two-step system offers new "tube" technology. The first step nourishes, while the second step lengthens. No clumping, smudge-proof, longwearing can be removed with water.
Ingredients:
Step 1: Water, Paraffin, Potassium Cetyl Phosphate, Acrylates, Copolymer, Cera Alba/Beeswax/Cire Dabeille, Cera Carnauba/Carnauba Was;Cire De Carnauba, Steareth-2, Cetyl Alcohol, Pheoxyethanol, Hydroxethylcellulose, Acacia Senegal/Acacia Senegal Gum, Rayon, Panthenol, Ethylenediamine/Steryl Dimer Dilinoleate Copolymer, Methylparaben, Sodium Dehydroacetate, Hydrogenated Jojoba Oil, Hydrogenated Palm Oil, 2-Oleamido-1,3-Octadecanediol, Disodium EDTA, Ethylparapen, Simethicone, Rosa Canina Fruit Oil, Isopropylparaben, Butylparaben.
Step 2: Water, Styrene/Acrylates/Ammonium Methacrylate Copolymer, Butylene Glycol, Alcohol Denat, Sodium Laureth-12 Sulfate, Acrylamide/Sodium, Acryloydimethyltaurate Copolyner, Isohexadecane, Phenolyethanol, Rayon, Polysorbate 80, Methylparaben, Imidazolidnyl Urea, Sodium Dehydroacetate, Disodium EDTA, Ethylparaben, Isopropylparaben, Isobutylparaben, Butylparaben
Directions: Apply the white base/primer coat first. This helps add length to your natural lashes, then apply the mascara.
Picture from Ulta.com.

PROS:
– The somewhat thick wand on the the mascara side, gives a nice thick volumized look
– Comes with a primer to help lengthen the lashes
– It's found at most drugstores and doesn't damage the wallet
– No weird smell (at least for me)
– I like how the primer wand is thin so you can get into every nook and cranny
– Didn't flake or smudge on me
– I found it fun and easy to remove with just water (like they claim), although it didn't remove everything, as I still has to use a little bit of my makeup remover to complete the process, but I think if you were to hop straight in the shower you'd be able to remove everything easily, but it comes off in "tubes"
– Similar to blinc's Kiss Me Mscara (will do a review soon finally on this one) in the sense that they both come off with just water and mild soap
CONS:
– Although the mascara wand is thick which is good for getting that volumized look, it may be TOO thick for some. I already have long lashes but I found it a bit troublesome trying to apply it because I felt it was too big for my eye sometimes!
– Didn't give me as much length as they claim, I still had better results with my Carbon Black L"Oreal Telescopic Mascara
How does it compare to blinc's Kiss Me mascara? Although I will also do a review on the Kiss Me mascara, the only real difference I can see is the brush wand itself. As you will soon see, the Kiss Me Mascara has a sort of spiral shaped wand which I found easier than the L'Oreal Double Extend wand, BUT the Kiss Me mascara retails for $24.
Overall? I liked this mascara, it's good considering the price and that it gave me some volume. Not so much in length.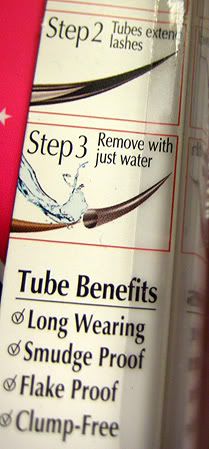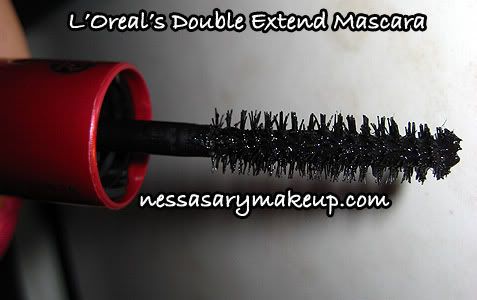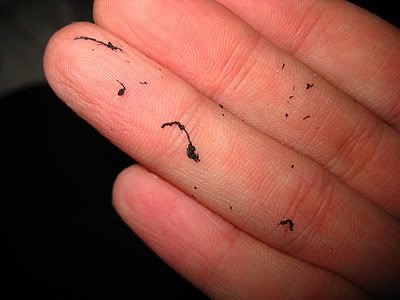 Can't really see the volume here, but I used this mascara…