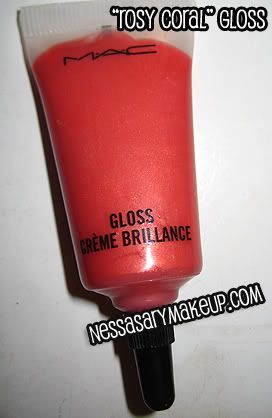 Yesterday was the 3 year anniversary with the BF, so we went to Roy's Hawaiian restaurant and it was pretty good! It was our first time there, I didn't take any pics but the food looked delicious! I can't believe it's been 3 years (5 years altogether), but geez louise does time fly!
He got me a card that had excerpts of the silly conversations we would have when we were friends. At the time we were both in other relationships, it's so funny how things work out…
Anyway, as you know from my recent MAC Haul, I got the MAC PRO Gloss in "Rosy Coral", it looked gorgeous on Christine from Temptalia especially since I have been looking for that perfect coral shade! And I ABSOLUTELY love it!
Product: 5 out of 5
Packaging: 4 out of 5
Quality: 5 out of 5
Overall: 5 out of 5
Shade used: "Rosy Coral"
Price: $14 to non-MAC Pro members, only available at MAC PRO stores and MACPRO.com, NOT freestanding MAC stores.
MAC describes it as: Shine the skin in shades of Gloss. Lightly tinted, adds a sophisticated shine, gloss, and polish to the skin, as it lays down a tone. Apply anywhere you require, shine, gloss, highlight, or as a provocative colour accent.
What it is used for: Can be used anywhere such as highlighting the cheekbones, but the consistency really is that of an actual gloss (think liplgoss) so it's sticky in the sense that it doesn't "feel" right on the skin (I tried). I read on forums that many tried to use it as an eyeshadow and it was just too sticky, maybe perhaps as base (like a Vaseline base to hold eyeshadows better) but I personally just use it as an actual LIP gloss….
PROS: Wide range of colors available, can be used to enhance natural lip color or with any lipstick or other lipglosses. Very pigmented yet sheer at the same time so it's give a nice tone to your lips. Stayed on my lips for a long time, no weird smell or taste, I liked that the packaging allowed me to put some on a lip brush rather that using a wand that comes in normal lip glosses, making it perfect for makeup artists to use on clients as it avoids contamination (just use disposable lip wands or brushes). I also didn't find it to be overly sticky to where it was annoying.
CONS: Only available at MAC PRO stores and not the freestanding stores, cap can easily get lost….
Overall: When I get out of my "no-buy" situation (I am trying really hard NOT to buy anything!) then I would definitely pick up more colors! (I am eyeing "pink pearl", "guava", "sparkle gold", and "Fuchsia hot")
Here is a tutorial on how I used it with my "Cherish" lipstick from MAC: (FOTD with this lippie in my next post!)
Started first by applying MAC "Cherish" lipstick on lips (no primer on lips):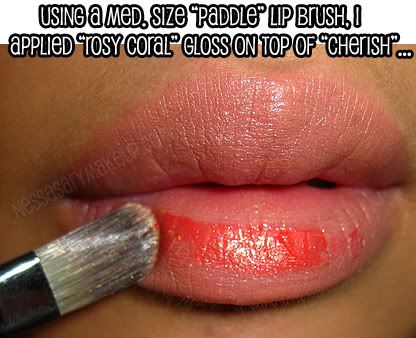 See how it enhances color and gives it incredible shine? Really makes lips luscious!

My PERFECT Coral shade!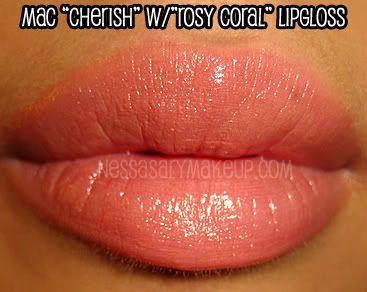 FOTD with this lippie in my next post!