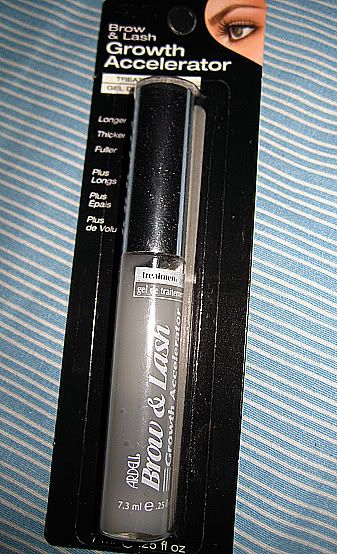 Did you accidentally over tweeze again? Or did that hyped up mascara pull off your precious lashes? Well have no fear! Ardell is here!
We have all done it. We made our eyebrows TOO thin than we would like, or lost a few lashes here and there, and we find ourselves waiting for months for our precious hairs to grow back again. With Ardell's Lash & Brow Growth Accelerator, it speeds up the process and before you know it, your hairs are growing!
Product: 5 out of 5
Packaging: 5 out of 5
Quality: 5 out of 5
Overall: 5 out of 5
What the product says:
Brow & Lash Growth Accelerator is a concentrated serum of multi-proteins that works to immediately repair weak lashes and restore thickness of over-tweezed or thinning brows. Added conditioners soften dry, brittle lashes enabling them to grow longer, thicker and fuller.
Ingredients:
Water (aqua), Paeonia Suffruticosa Extract, Panthenol, Polytetrafluoroethylene, Hydrolyzed Soy Protein, Hydrolyzed Wheat Protein, VP DMAPA Acrylates Copolymer, Polyquaternium 37, Propylene Glycol Dicaprylate/Dicaprate, PPG 1 Trideceth 6, Ricinus Communis Seed Oil (Castor), Iodopropynyl Butylcarbamate, DMDM Hydantoin
Directions:
After cleansing face, brush on to lashes and/or brows. Leave on all night.
I bought this after many reviews from Makeup Alley and 80% of people said they would buy it again. I went to ULTA with the BF a few weeks ago and picked this baby up, it was only $4 so why the heck not? I already have long ass eyelashes so I had nothing to lose!
PROS: No funky smell (big bonus for me, I hate things that smell funky!), it made my eyelashes THICKER, my eyelashes are naturally pretty long as it is, but this made them a bit thicker, rather than long and thin, and I really noticed it after 4 days of using this stuff. I have NOT tried it on my eyebrows, but reader Esraa said she used it once on her thin eyebrows and all the hairs grew back in no time! I LOVE how it works while you sleep! On CLEAN lashes, apply a few coats before bedtime, and it starts to work overnight, giving you luscious longer and thicker lashes, as well as eyebrows. I also noticed that my eyelashes were a lot stronger and durable, and not so brittle. Usually i'd lose a mascara hair or two, but my eyelashes are a lot stronger now. I don't think my findings are from some sort of a "placebo effect" as I originally didn't think it would work nor would I notice a difference; but after about a week, my lashes were SO much thicker, not sure if you guys can tell from recent FOTD's, but they are! The price isn't shabby at all, at $4-$7 (depending where you go), it's a great product to try!
CONS: I personally do not have any cons about this product.
Overall: I like it, and would buy it again. I know many of you probably have tried this particular product or something similar with no results, but I think with repeated usage you will notice a difference. As it's design is to HELP enable your eyebrows and eyelashes grow FASTER, so in order to see some results you must use this for at least a month, it various from person to person. I have used it for about 2 weeks so far and I am happy with the results, even if it did NOT make my lashes longer or thicker in the end, they are no longer brittle and a lot stronger, so I would be happy regardless! And besides it's very affordable!