I have had this for months and for some reason I totally forgot to do a review on it thinking I already did a review on this! LOL. Anyway, better late than never!
Product: 4 out of 5
Packaging: 4 out of 5
Quality: 5 out of 5
Overall: 5 out of 5
Where to purchase? Sephora or any Dior Cosmetics Counter
Price: $44, 1 oz.
Shade I bought: Medium Beige
Would I buy again? Hell yes!
What they say:
DiorSkin Forever Extreme Wear Flawless Makeup SPF 25
Extreme wear for extreme beauty. This luxurious foundation stays flawlessly smooth and looks naturally perfect in any environment. With two unique innovations: an exclusive nano-stretch network inspired by nano-textile technology to insure makeup will fit like a second skin and a unique hydra-gel moisture-stabilizing system, Dior takes smoothing, wear, and comfort to the ultimate extreme of beauty. Non-transfer and waterproof.
Active ingredients: octinoxate (4%) and titanium dioxide (2.64%)
My experience with it: I love this foundation! I was interested in buying this foundation because for one, it has SPF25, which is a big plus, and because it claims to be waterproof and transfer proof (so the BF has no more dirty shirts LOL!) I tried the "Medium Beige" simply because my neck is darker than my face so of course I have to match with the shade of my neck, and also because it looks a lot better in photos for me to go a few shades darker to avoid that "ghost effect" where your face is super white. I wore it a few times already (I will do more FOTD's with it) and I love it because it really lasts for me and OMG my face looks flawless and airbrushed with this baby on! The only thing I don't like is the smell, it's not bad or anything, but it's a really strong perfume-y smell that you might expect to smell from an old lady! I don't use it daily because for one, this costs $44, so it's my "special occasion" foundation LOL, but I use it when I want that airbrushed look and I need something to last all day. Also to prevent breakouts I alternate and use my mineral foundation on a daily basis.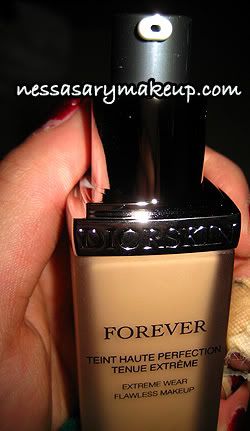 PROS:
– Has SPF25
– Many shades to choose from
– Really lasts long, all day!
– Gives the most amazing flawless coverage without being overly heavy or cakey
– There's enough in the bottle to last you a long time
– Definitely good for those with dry skin (like me!) but also great for those with all types of skin because it's not
CONS:
– I am not too fond of the smell, it's a strong perfume smell that's a bit overpowering for me
– The pump (which is why I docked a star!), the spout is too small and short so when you dispense it some of the product falls back on the bottle which can be a waste of product (and at $44 a pop you don't want to waste a drop!) I wish they had it protrude out a bit more like other liquid foundation pumps to ensure that it pumps out as much as you need.
– The price, it's a bit steep I know, but totally worth it since it gives you amazing coverage, it lasts all day, and has SPF25.
– Consistent use may cause breakouts depending on how sensitive you are to liquid foundations in general, I know if I were to use this daily a pimple will pop up outta nowhere…
So how does it compare to the MUFE HD Foundation? I love them both to be honest, they both give amazing coverage and they both work well for photoshoots and where longer lasting wear is needed. However the Dior foundation doesn't rub off and it feels like you have nothing on since it goes on somewhat thin where you don't feel cakey (not like the MUFE makes you feel that way) but to me the Dior foundation lasts longer than the MUFE Foundation…
Overall? This is my favorite liquid foundation (although MUFE is right up there as well!) I love how my flawless my face looks with it on because it hides any blemishes or discolorations. It feels light and non-sticky and worth every penny!
FOTD using the Dior Forever Skin Liquid Foundation: