Happy Friday Lovelies!
Since the time I was 4, I have always been a business-minded woman. I would take items my mom already had, re-wrap it, and give it to her on Mother's Day or her birthday, LOL. Come on I was 4 years old! In my mind, my mom didn't know she had those things, and by me giving it to her, it would bring those items back to life and she would find a way to use them again. One thing I loved about my mom, was that everytime she opened my little "gifts", she ALWAYS pretended that I really DID buy them and would be so surprised and would actually USE it. Thinking about it now, I was so silly; but I always tried to start things on my own, and sell it. I would collect rocks and paint them, then try to sell them thinking they were priceless gems, LOL. I was quite an imaginative kid, and I guess when you are the only child for 9 years, it's amazing the things you do to keep yourself entertained.
Now at almost 26, I find myself more enthralled with the idea of taking this site and my addiction to makeup beyond it's original intent. At first, I created this blog to record products I used for certain looks and to help others with product reviews and swatches; but now this site has grown so much since it opened last May, bringing in 6,000 page views a day. I am so glad that many of you find it useful or at least- entertaining! And I REALLY appreciate you all for being so kind and supportive. Now I just wanna continue doing this as long as I can because it's fun, as well as being able to offer many items some of you are unable to get due to being an international resident, or even US residents when it comes to certain things like pigment samples and such. (When I can! And no pigment samples are still NOT available)
So I created some business cards, address labels, post-it notes, and of course a shirt all with the same logo and everything to spread the word, and I love how they came out! They look super cute and I am glad they came out so nice and very matchy-matchy! It says "makeup artist" because eventually I will be getting into it to help my photographer friend who needs one and thought it would be good to gain more experience and do it on the side. Some of you actually wanted shirts haha which I thought was so funny, considering I only made ONE shirt for me as my sleep shirt, LOL! It never crossed my mind that people would want one, so I am looking for a distributor who will create me a few baby-T shirts with the same logo to give to some of you gals, it's great for around the house, gym, or a sleep shirt (like how I use it), since it's pretty comfy and soft. I honestly just like the colors on it and the girl…lol.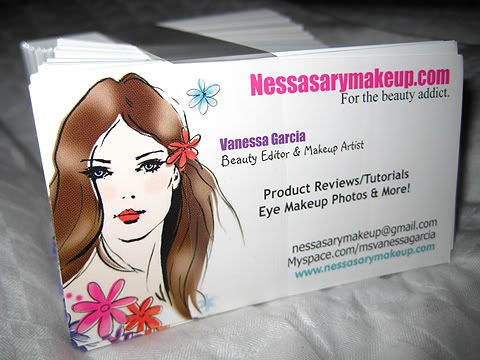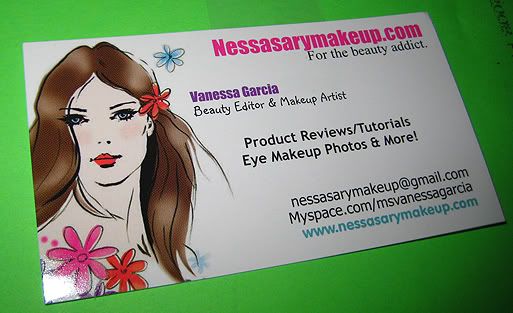 The BACKSIDE: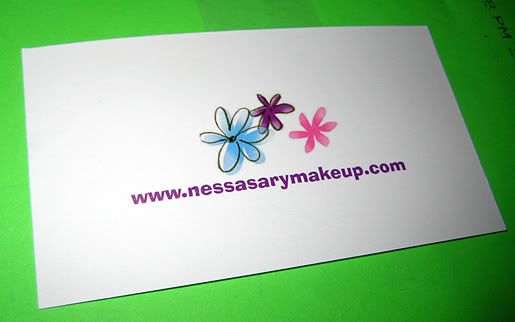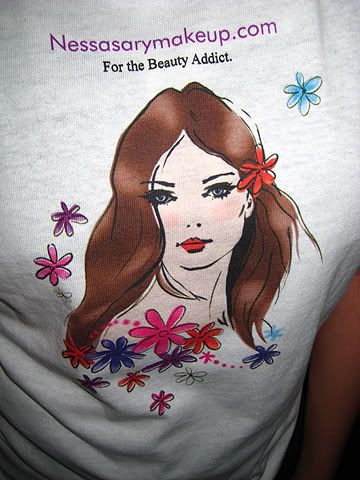 I went to K-Mart after work to go and buy some toilet paper (now that the BF lives with me, supplies come and go REAL FAST!) So I had to stock up, and ladies, have you EVER gone to a store with the intention of buying only one or two things, and end up coming up with a cart load of stuff you don't need??!!! Please tell me I am not the only one that has this problem…LOL.
EVERY SINGLE time I walk into a Target, CVS, Walgreens, Wal-Mart, etc, I go there for a few things like necessities such as shampoo, toilet paper, food, and the like, and I always end up coming out with things I didn't go there for, usually makeup haha or more facial cleansers. It's so hard to just go in there and pick up that ONE thing you really went there for, pay for it, and walk out. NOOOOO, for some reason I gotta browse around and end up buying something else. Argh!
Anyway, that happened last night at K-Mart, went in to get toilet paper and some cold fighting remedies you lovely ladies suggested, and what happens?!! I come out with eyeshadows, a palette, nailpolish, AND I was this close to also picking up Milani's Brow Fix Powder AND a pack of St. Patrick's Day Shamrock Stickers (don't ask), but I was good and at least put those back!
So here is what I bought, luckily the BF wasn't mad because it was cheap stuff well within our budget (so he thinks! Ha!)
Remember "The Color Workshop"? Those gaudy makeup palettes that usually were sold in cheap stores like JC Penney or Sears? I got them like every Christmas and hated them, but it seems that like AVON, The Color Workshop has stepped up their game! Their colors are much more pigmented (and they are actually NICE colors, and not the grandma colored eyeshadows), AND the design is so sleep, chic, and simple.
They had these awesome palettes for $10, and also had other palettes that were interchangeable meaning you can switch up the colors by changing the inside pan. The one I bought contains eyeshadows, shimmer powders, blushes, lipglosses, creamy lipstick-like pots, and cream eyeshadows, AND came with 4 nailpolishes. I haven't tried it yet, but based on the swatches it looks quite promising!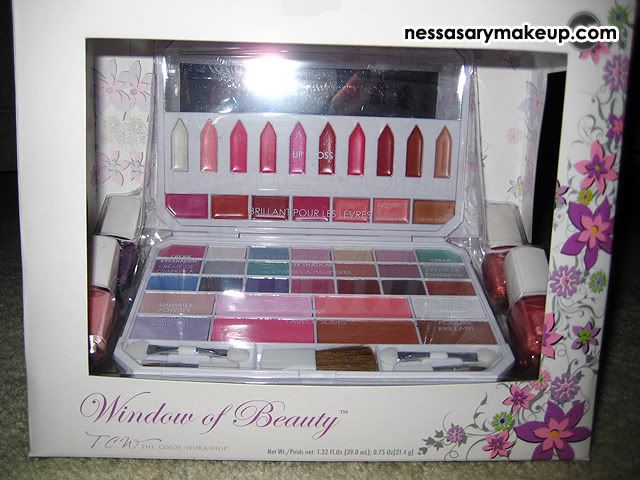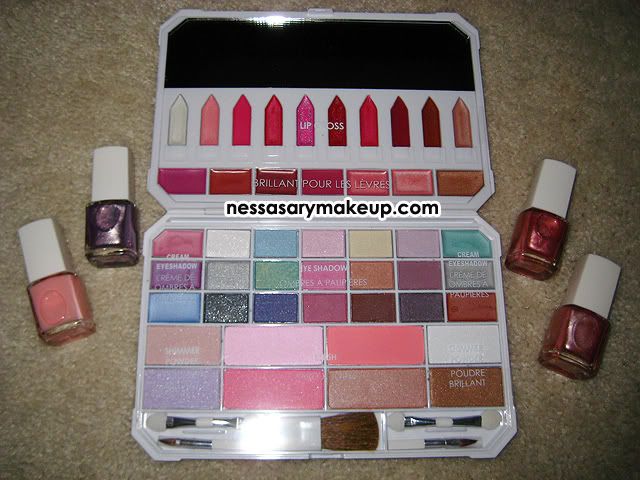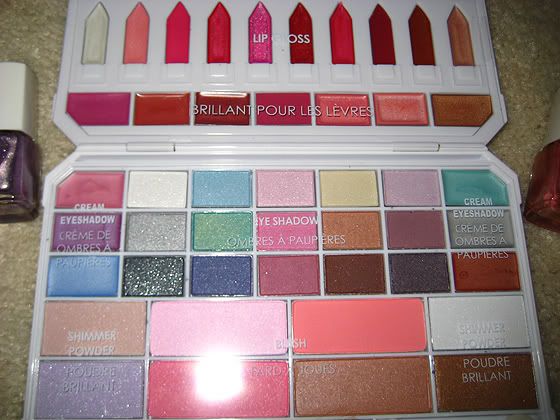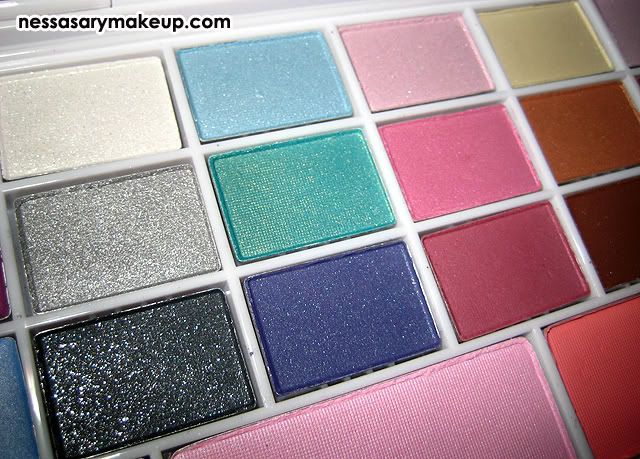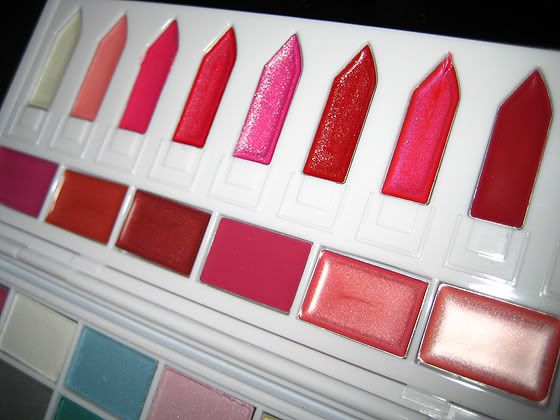 How it looks like closed: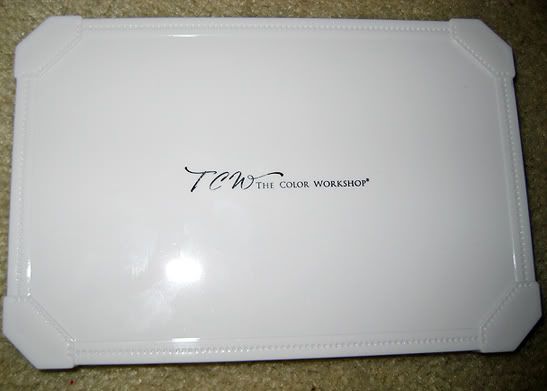 Swatches:
A few eyeshadows…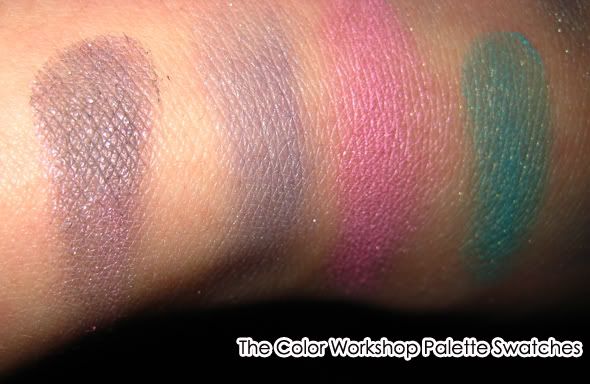 The nailpolishes…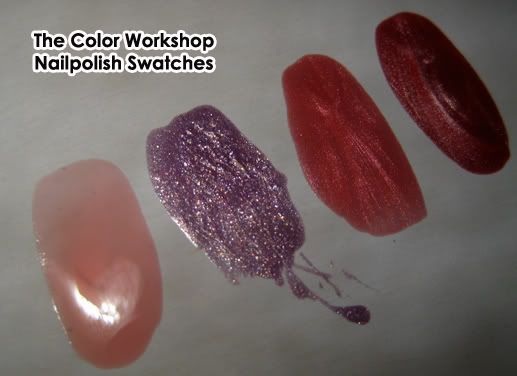 From Maybellline's Spring Collection, nailpolish with designs inside to paint on your nail…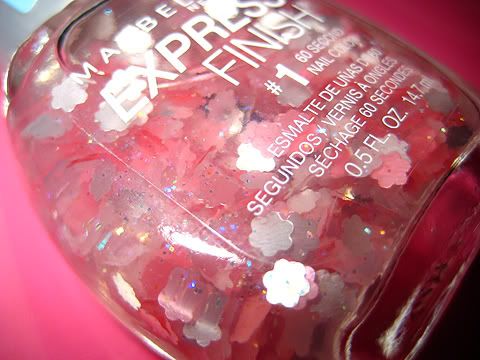 Eyeshadow Quad in "Seaside Turquoise":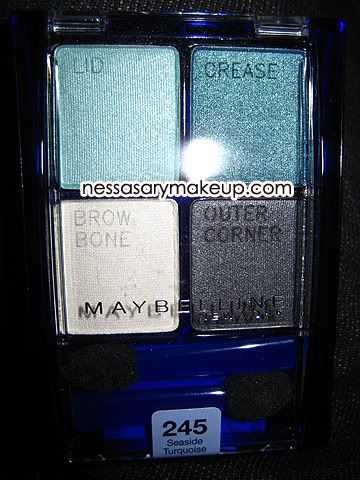 I also couldn't pass up on Garnier's "Regenerating Micro-Polish Kit", it was on sale for $4.00!!!! Supposed to give you more refined, radiant, even-toned skin, we'll see!