Many of you have asked the nailpolish colors I had on in some of my recent posts so here they are; I hope to do a post soon with a bunch of nailpolish swatches:
– In the YSL Primer Post, I wore Nina's Ultra Pro Nailpolish (available at Sally's Beauty Supply Store) in "Sweet Nothings" (like a lilac purple).
– For my toes and nails (in the post where I had the strappy shoes from Target), it's Essie nailpolish in "No Boundaries".
– My sister's blue nailpolish (which was actually mine! LOL), is China Glaze nailpolish in "Frostbite".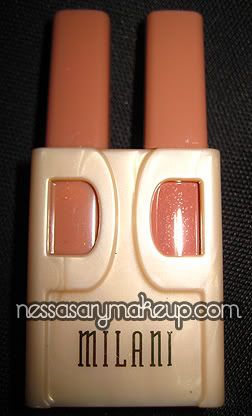 Anyhoo, I recently went to Target the other day to get some body wash and was walking around the cosmetic aisle (because it's somehow euphoric and therapeutic to walk through familiar territory!) and I saw these new Milani lipstick and ligloss duos called "Pretty Pairs" ($6.99 at Target). Each shade name starts with a "Two", for example the one I bought is "Two Perfect", and examples of other shades are like "Two hot to handle" and "Two Cute".CLICK HERE TO SEE MORE COLORS.
Product: 4 out of 5
Packaging: 5 out of 5
Quality: 4 out of 5
Overall: 4 out of 5
Shade I bought: Two Perfect
Additional shades available? Yes
Price: $6.99 at Target
Where to buy: Walgreens, Target, any retailer that sells Milani products
Would I buy again? Yes

They aren't anything like the stay on lipsticks such as L'oreal's Infallible lipstick, these are simply just a lipstick with a matching lipgloss in one with a pull out mirror on the back. They are pretty light-weight and tiny to carry around so it doesn't occupy a lot of space, the lipstick can be worn alone or with the lipgloss if you wish. It has NO SPF protection, but this is just a really basic lipstick and lipgloss set on the go, and at a nice price! The lipstick is creamy and easy to apply, the lipgloss is too and they both don't have a weird taste or smell (at least to me), the only thing I don't like is the lipgloss brush wand, it's stiff and super tiny; if they just tweak the brush wand it's perfect for me.
It contains:
– Shea butter
– Vitamin E & A
– Avocado and Jojoba Seed Oil
I LOVE the color I got, "Two Perfect, it's a nice nude-peach color in person, not super coral or orange, but a nice tinge of peach so it's pretty wearable and I think it complements a good majority of skintones nicely without being washed out or overpowering. I definitely want to check out the other shades they have soon!
PROS:
– Affordable, moderately easy to find in most stores here in Cali
– No weird taste or smell
– Love the shade I got!
– Has a pull out mirror
– Easy to tote around in your purse, not overly bulky or heavy
CONS:
– Lipgloss brush wand is a bit stiff and tiny
– Even though they currently have more shades, it's not a big selection, I think if they add more shades, that would be awesome!
Overall: Definitely like the one I got, and for you lippie lovers like me, definitely check it out the next time you are out and about!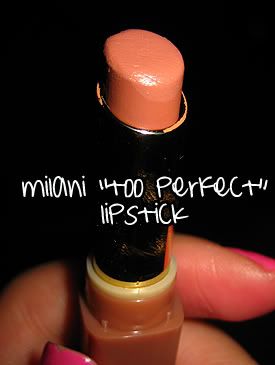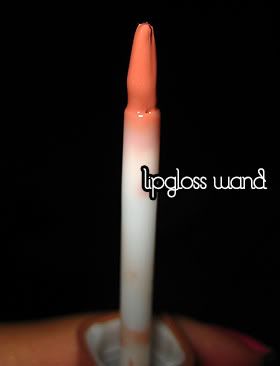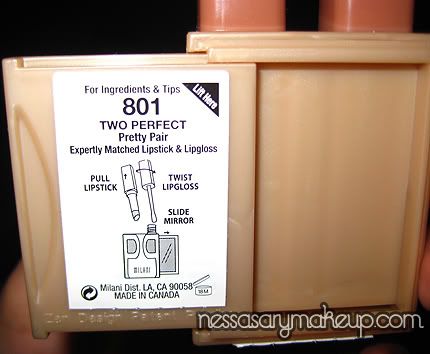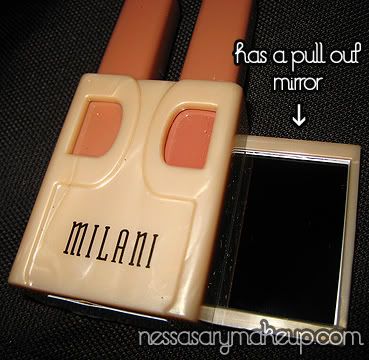 Just the lipstick: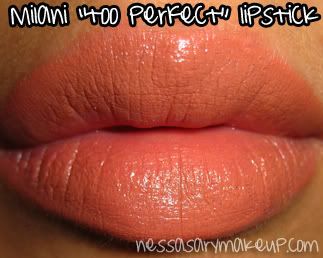 With the gloss: