I know, I know, I am lagging on replying back to some of you, I am trying! But there's just so much to do all at once that sometimes it slips my mind! I will try and answer many of your questions today and tomorrow.
I took some swatches of the newest collection from MAC. My official take on it (product review) won't be completed until tomorrow night because I ordered mine online (the eyeshadows and pigments) and it is scheduled to arrive tomorrow, but I was able to snag a couple of the lipsticks that I didn't add to cart previously: Sci-Fi Delity and Pleasureseeker.
Some of you didn't like the bright neon orange packaging, and I am not a fan of orange either, BUT I must say I like that it's bright because it helps me differentiate which lipsticks are what compared to the other lipsticks I have, especially the normal sleek black MAC tubes. It makes it a lot easier to just see it. Grab it. And go!
I swatched the blushes and the lipglasses on my right hand, and then I forgot about it and it wiped off somewhere…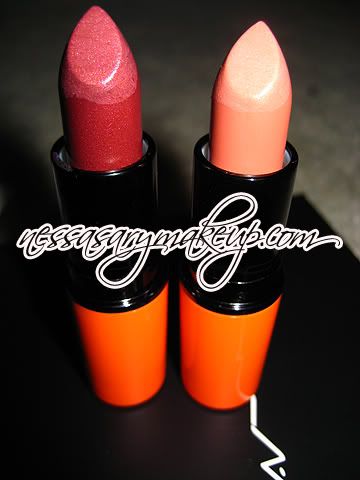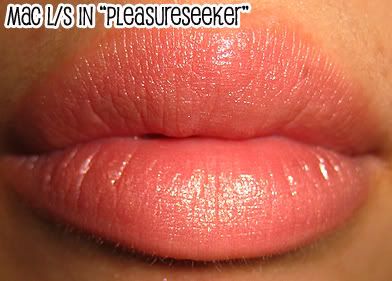 This is Sci-Fi Delity mixed with the gorgeous glaze lipstick, Pleasureseeker.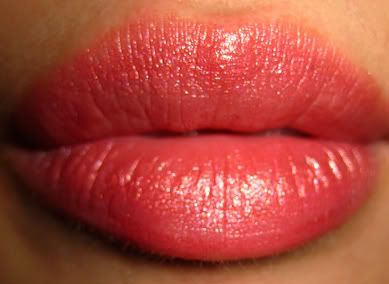 "Evening Aura" is also "Femme Fi", I didn't realize the MUA was using Evening Aura on someone and just replaced it with another Femme Fi (argh I hate when they do that! LOL)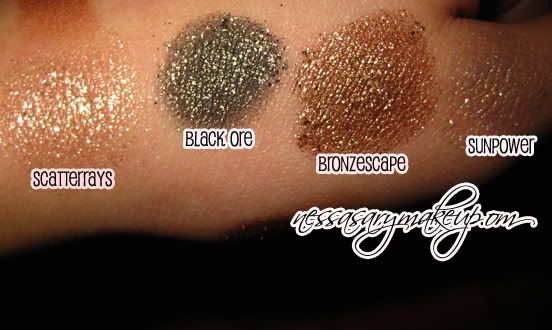 The receptionist said I had a delivery of flowers. I didn't think it was from the BF because he's not THAT romantic, it's not my birthday (yet), and it's not Valentine's Day (LOL), unless I was dying and I didn't know! I then thought it was from my dad since my birthday is around the corner (June 1st), but I know he wouldn't send it TOO early, but alas! It was indeed from the BF with a card that read, "Just Because I love you! -Romeo". (Yes, that's his real name, LOL)
Awwww it was VERY sweet, even though I must admit I thought it was fishy, so much so that I immediately called him and said "What did you do? Did you break one of my eyeshadows? Did you sleep with someone?" LOL. He was like "NO! It's because I love you!" LOL.
It was a HUGE martini glass with two straws, just in time for margaritas in Vegas! (Even though I can't drink since im allergic to alcohol! Phooey!)