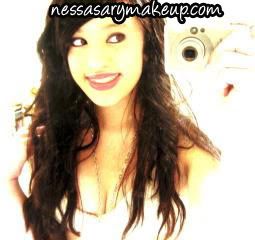 My sister is coming to town! I guess she is driving my parents nuts so they are sending her to me for the rest of the summer (don't know if that's a good thing, LOL), since she is a teenager, it sounds about that time we aren't too fond of our parents, lol. So you know what that means! I have a student to do make-overs on…not like she needs it because she is naturally gorgeous! And she is the only one out of me and my other sister that doesn't look Asian (she got our mom's genes), so it should be fun playing up her features. My other younger sis is coming too and I know she'll have fun playing "dress-up" with all my things…
Anyway, here are my MAC lippies and swatches of course. I forgot to include my mattene lipstick, slimshines, and MAC l/s in "faux", but you can just search for these in the search box on this site to find swatches on them. As you can see I love to collect at least one lipstick from each collection (but lately some collections have had sheer lippies).
I agree with xppinkxx when she called us ladies "lipstick army" because doesn't this pic look like an army of lipsticks?? HAHA.
CLICK TO ENLARGE PICS: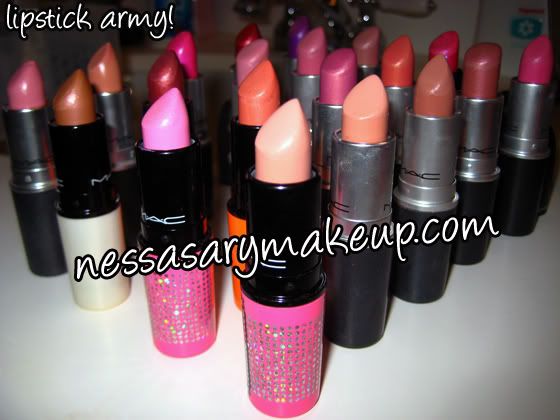 Lipstick names with an (LE) means it was a limited edition item and MAY no longer be available at MAC, but you may find it at a CCO store near you. Lipsticks with (PRO) mean it is a PRO product and only available at MAC PRO stores (some may be available at certain MAC freestanding stores). Lipsticks without anything beside it means they are still part of the permanent line.
Violetta (PRO)
Masque (LE, Alexander McQueen Collection)
Fun N' Sexy (LE, Fafi Collection)
Pink Nouveau
Port Red (LE, Naughty Nauticals)
Scanty (discontinued)
Curtsy (LE, Danse Collection)
Sparks Can Fly (LE, Smoke Signals Collection)
Show Orchid (PRO)
Snob
Creme de Femme
Cherish
Peachstock (PRO) although I have seen this one time at a freestanding store…
Sci-Fidelity (LE, Neo-Sci Fi collection)
Pleasure Seeker (LE, Neo-Sci Fi collection)
Myth
California Dreaming (FREE lipstick for CA residents only)
Honeymoon (LE, Moonbathe Collection)
Melrose Mood (LE, Heatherette Collection)
Fleshpot (LE, Heatherette Collection)