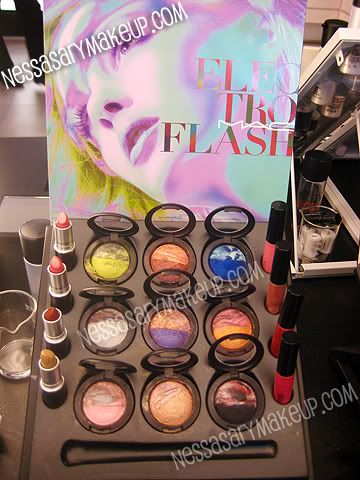 I am pooped. It's been a really long day…and it's now 1:15am as I write this and I have to wake up in like 4 hours to go to work and do it all over again. *sigh*
BUT I wanted to post about the newest MAC Collections that came out today: Electro Flash, Sonic Chic, and New View.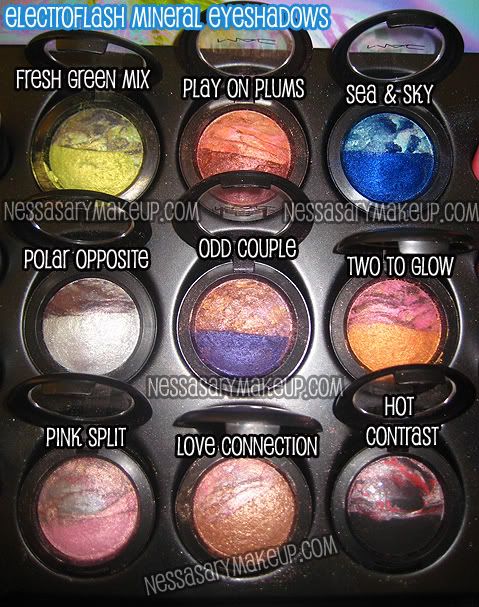 Anne and I went to the Topanga Mall after work today to peep out the newest collections, our BFF was there again (lol), and everyone in the store thought we were crazy with all the swatches that were accumulating on our arms. Waffa (sp?) was the MUA that helped us, she was SOOOO incredibly sweet, genuine, and helpful. She helped us pick out colors that would best match us, didn't try to sell us anything, she was very honest and would tell us if a color looked similar to something from the permanent line. She waited as we swatched endlessly and took pics (she didn't even mind that we took pics!), and was just such a pleasure. If any of you live around here, I HIGHLY recommend you ask for her if you do visit that MAC store, she is the best!
I didn't swatch anything from the New View collection as they are all merely MSF's and was just so enamored by the Mineralized Eye Shadows (MES) and the Sonic Chic Blushes. First of all, the color payoff on these MES's compared to those that were released last year in the Antiquitease collection, is A LOT better in my opinion. They aren't as shimmery as the Antiquitease ones OR the ones released with the Flashtronic Collection (i.e. "Tectonic"). The Electro Flash eyeshadows are very pigmented, EVERY SINGLE one of them; they have shimmer in them, but it's wearable, not over the top shimmer at all, but just gorgeous colors all around. I ended up buying: Sea & Sky, Fresh Green Mix, and Odd Couple. They are ALL really beautiful, but I wanted to get the ones that fit more with my personality, and since I love colors, I walked away with those 3.
The Sonic Chic Blushes are really pretty, they are pigmented but sheer at the same time in the sense that you can guarantee you won't be applying too much color on your cheeks. They all have a bit of subtle shimmer in them. I ended up with "Warm Soul" and "Nuance" simply because I couldn't decide between the two. LAME I know, but I really couldn't see which one is better. Although they BOTH LOOK SIMILAR, they aren't. "Nuance" is more of a peachy orange with gold shimmer, and "Warm Soul" is a bit darker and more taupe and brown with pink shimmer. So I bought both to see which one I like most since I can always return one….before I walked in I thought I would get "Pleasantry", but I already have a lot of pink blushes, it was time to switch it up.
I missed out on getting the "Girl Friendly" paint pot from the Fafi Collection (as my store didn't get the shipment in time for the Event and ended up getting it later), so I was lucky to get one at my store today as they had it!!! BTW, "GIRL FRIENDLY" PAINT POT IS OFFICIALLY PART OF THE PERMANENT LINE!!!" (as the MUA mentioned to us), so if you are like me and missed out the first time, have no fear as they are here to stay! Topanga also has "Electro Sky" left from the Alexander McQueen Collection, too bad they didn't have "Other Worldly"…another PP I missed.
Without further ado, here are pics and swatches! So what are y'all getting? Or if you already DID get yours, what did you get???
My HAUL: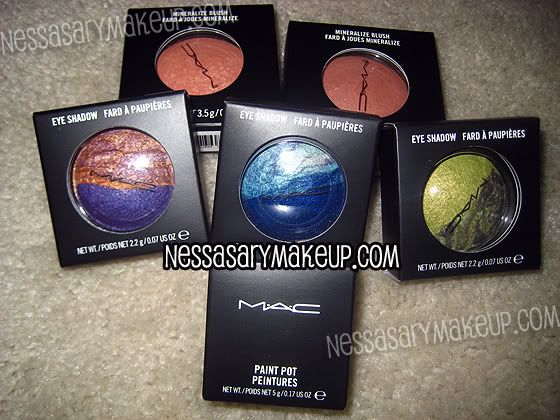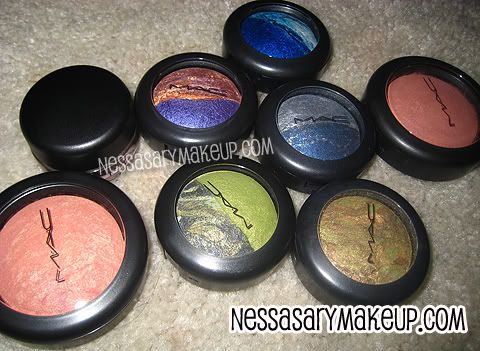 I also included "Tectonic" and "Silversmith" which concludes my MES collection!