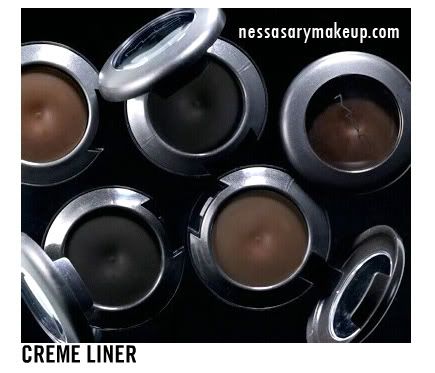 Creme Liner is an advanced version of traditional creme liner, which can be used wet or dry. It can be applied straight from the container for a concentrated opaque line, or with a tiny bit of water for a more liquid/fluid application. It dries quickly, is streak-resistant, and long-lasting. Not made with harsh solvents or lacquers like some, this formula contains Vitamin E. It provides the most versatility for the artist.
2.5 g / 0.08 US OZ
US$11.50
These Creme Liners are the newest thing to hit the MAC PRO stores! They are not available in freestanding MAC stores (at least as of yet). MAC PRO stores only, and you do not have to be a MAC PRO member to buy from the MAC PRO stores, but you do have to be to buy online.
***EDIT*** Many of you asked how these compare to the fluidlines, I personally only have the Fluidlines, so I don't know how they truly compare, however I am guessing that the Fluidlines are more of a gel consistency, whereas the Creme Liners can be used dry (as is from the pot) or you can wet your brush to create an affect similar to that of liquid eyeliners. They say its also streak resistant (a plus!) and long lasting (although the Fluidlines to me are also long lasting). They are a more re-vamped version of the old traditional creme liners.