I meant to blog a couple of days ago, but since I started hitting the gym (it's my New Year's resolution to be fit and healthy and get Hawaii ready for my vacay in August); it's been making me super exhausted. But I actually feel really good, i've been eating healthier than I was before, so I don't feel sluggish anymore, I feel more energized and "cleaner" inside; and I am just looking forward to keeping it up and just being fit again. After I decided to stop my feeble attempt at modeling, and being controlled in terms of what I can and cannot eat, I became careless and kept eating the wrong things. There's nothing wrong with eating what you want, just moderate it and exercise. My problem was that I wasn't really exercising and I was just eating anything and everything! I went from my heaviest which was about 130 to now a 118, and honestly I don't care if I am 125, as long as I am healthy and toned. I try to work out everyday except on weekends since the gym is next to my work, so I am trying to make it a constant habit. So far so good!
Anyway, here is the blue eye/fotd I did last weekend and meant to post up earlier before I got sidetracked! I had blue nails to match which was China Glaze's "Frostbite".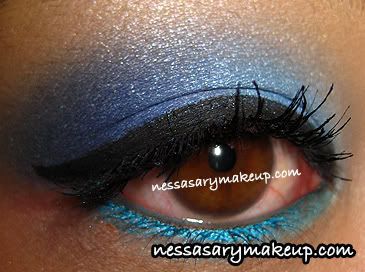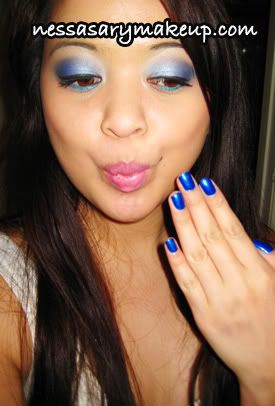 What I used:
[Face]
– MUFE HD Foundation #127
– MAC Studio Finish Concealer in NC30
– Cargo OneBase concealer in #2
[Cheeks]
– MAC Blushcreme in "Uncommon"
[Eyes]
– MAC "Otherworldly" Paint Pot on lower half of the lid
– MAC e/s in "Moonlight" on lower half of the lid
– MAC e/s in "Cobalt" (PRO) on 1/4 of the lid
– Milani "Blue Ice" and MAC "Freshwater" on outer half of the lid
– Dark blue e/s in MAC "Sea & Sky" on outer half of the lid and outer-V
– MAC Fluidline in "Blacktrack"
– L'Oreal eyeshadow in "Voluminous"
– Urban Decay glide eyeliner in "Electric" on lower lash line
[Lips]
– MAC lipstick in "Snob" and "Pink Noveau"
– MAC lipglass in "Special Edition Viva Glam II"
And I LOVE the Beauty Blender Sponges! I know, I know, they are a bit pricey for SPONGES, but I can't live without them! They last forever for me, my liquid foundations don't sink in them so it's not going to "waste", and the unique shape allows me to cover large and small areas with ease. I ended up buying two additional ones, one for my makeup bag, and one for when I travel.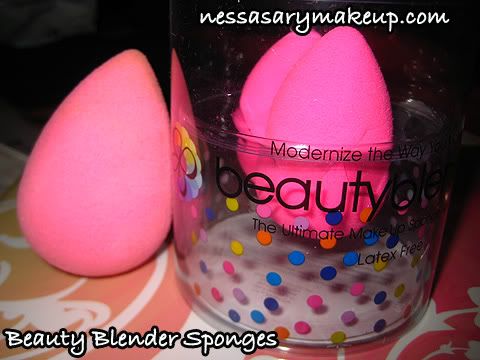 As you can see the one on the left is the sponge wet, hence it's larger…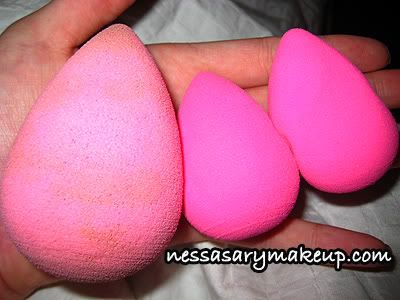 Some of you asked to see the MAC Box I got for Xmas actually filled up with stuff, so when I slept over the BF's mom's house last weekend, here is what I packed to utilize the space! It actually fits A LOT!