ColorOn Professional – Instant Makeup Applicators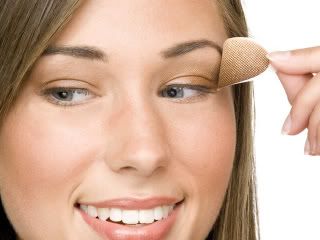 Eyeshadow applicators, just stick, peel off, and voila! You have makeup on your eyes- dazzling!
Each kit ranges in price (5 pack),with they have a variety of colors ranging from smokey eye looks, naturally warm/cool, Jewels, Metallics, and more! You can also CUSTOMIZE it to where you can choose the looks you like!
***If any of you gals try this let the rest of us know your review and thoughts on this product!***
You can read more on the website, http://www.coloronpro.com:
Manufactured in the U.S.A. by World Cosmetics, LLC
Our debut product, colorOn Professional Instant Eye Shadow Applicators, can make anyone look as if they have a make-up artist on call. A patented, revolutionary application technology, colorOn Professional is so easy, fast and fun to use that it appeals to everyone, from the makeup junkie to the makeup artist to the makeup-averse. Imagine pillowy-soft disposable applicators already laden with mineral cosmetic eye shadows in colors and designs ranging from subtle daytime to smoldering evening looks, created to suit every skin tone and ethnicity.
These are single-use, hygienic, hypoallergenic applicators that require no makeup skills, no brushes or secondary applicators. Imagine an eye shadow that is waterproof, crease-proof, and long-wearing that transfers to the eyelid with just a touch. The result is nothing short of amazing: A professional, flawless look every time.
Available at select retailers or directly through this website, colorOn Professional Instant Eye Shadow Applicators come in color combinations to suit every taste and every skin tone due to our rich, intense pigments and advanced design. Supermodel to career woman, novice to pro – you will adore this product! Makeup Artists in the industry are already buzzing, cosmetics retailers are taking notice, and finally colorOn Professional Instant Eye Shadow Applicators are available to you.
With colorOn Professional, industry artists can color outside the lines. In addition to the subtle, everyday looks, this revolutionary application technology offers the instant ability to apply intricate designs on the eyelid, with tremendous potential for theatrical makeup, runway looks, avant-garde club looks and costume/holiday makeup.
The future of makeup is now. Finally, makeup made easy, glamour made simple!