Here is a look I did using Barry M's Dazzledusts in "Kingfisher" and "Midnight", and I used the light blue color from the KleanColor Palette. See? I don't just use MAC. LOL. If I had discounts for other makeup brands, you can bet I would be buying all of 'em. Especially Laura Mercier, Laura Geller, Urban Decay, Too Faced, etc., but since I don't, I end up just getting MAC since it's cheaper with my discount, although I can never pass up a UD Palette!
I also used the New View MSF in Medium Dark. (Video on how I apply it and what brush I use coming soon!)
*Excuse the full face shots, I wasn't gonna post them up but just so you can get the general idea, it actually looked better in person but my lower lashline was getting irritated by the eyeliner or something because my eyes kept watering up so just imagine that the lower lashline is lined with black and smudged with "Midnight" at the bottom or a blue eyeliner, LOL.
I forgot to add "Coygirl" blush in this pic that I used…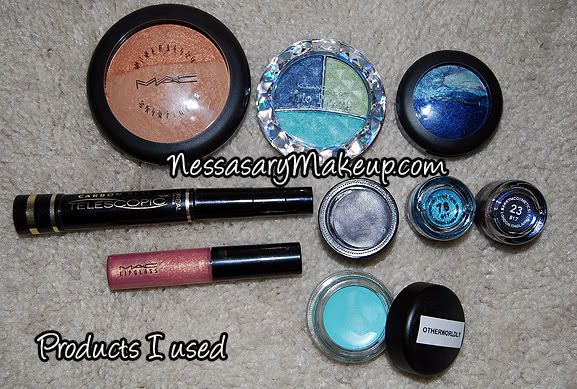 What I used:
– MAC MSF in Medium Dark
– MAC "Coygirl" Blush
– MAC Fluidline in "Blacktrack"
– Loreal Telescopic Mascara
– MAC PP in "Otherworldly" (LE)
– Kleancolor Palette (light blue color)
– Barry M Dazzle Dust in "Kingfisher" and "Midnight" (applied wet w/mixing medium)
– MAC Mes in "Sea & Sky" (LE)
– Lips: MAC "Nymphette" Lipglass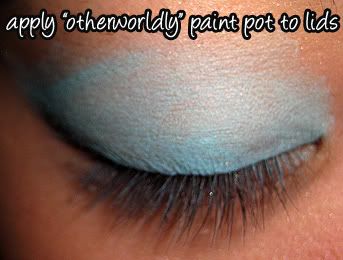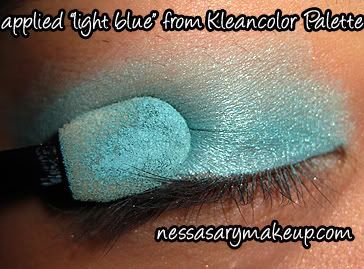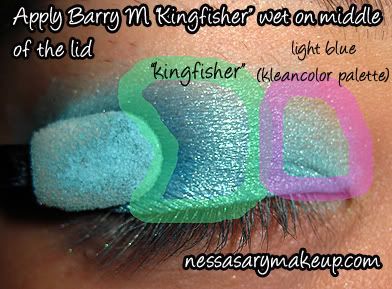 I also used a little bit of "Sea & Sky" MES from ElectroFlash.

Apply eyeliner and mascara, and line the lower lashline or waterline…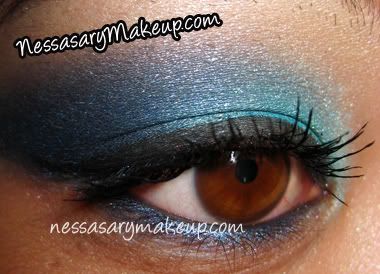 Again, imagine color on the lowerlashline haha, I had to take it off hence this pic has nothing on the bottom because my eyes were getting irritated