I had a request for this look I did a loooong time ago, in which I used Milani "Storm" (black) and Milani "Shock" (purple), I sorta re-vamped the look (even wearing the same necklace!), using MAC "Carbon" eyeshadow instead since it's a flat matte color, and "Storm" has glitter. Also this look is much more smoky, the new one is softer. I also used grey contacts as someone wanted to see how it would look…
So this is the ORIGINAL look (don't mind the hideous eyebrows):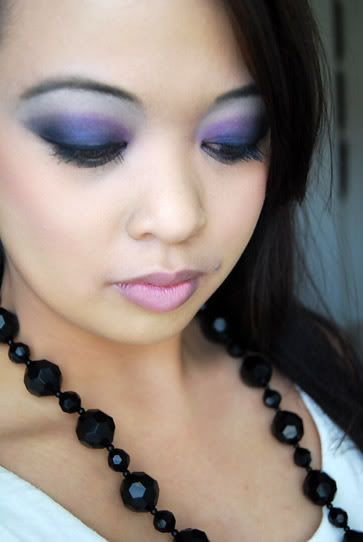 And here is the NEW look, I also used the Premier Primer Powder here under my mineral foundation, see how awesome it looks not having any shine?! This was even taken at the end of the day when the BF and I got back from dinner…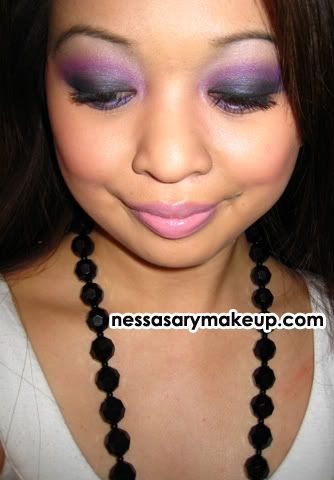 Yes I hate my nose…it's all cartilage, no bone, so can't get a nose job (sucks!), but at least I can put it all the way down to touch my lip! 😉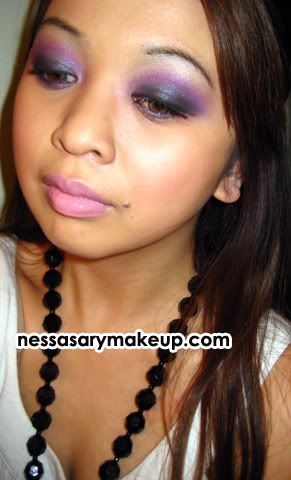 The outfit, I actually wore leggings with it AFTER I took this pic, and it's not see-thru in case you are wondering, lol.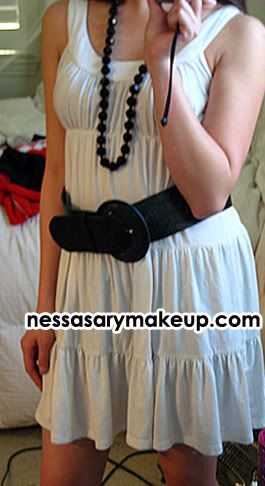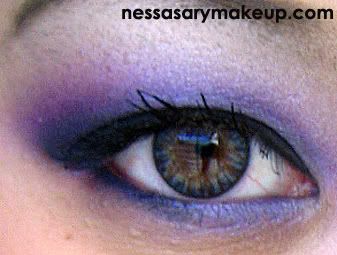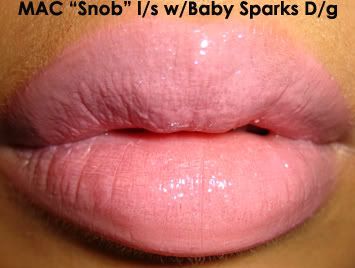 What I used:
Face:
– Meow Cosmetics Primer Powder
– MMBB Foundation in "Medium Beige"
Cheeks:
– MAC Blush in "Fashion Frenzy"
Eyes:
– MAC "Rondelle" e/s all over lid
– Flirt! e/s in "Black Ivy" on lower lid above crease
– MAC "Carbon" e/s on outer-v
– Milani "Shock" contoured on top of Black Ivy and Carbon
– MMBB "Highlights" as highlight
Lips:
– MAC l/s in "Snob"
– MAC Dazzleglass in "Baby Sparks" (not released yet)
Step 1: I applied MAC "Rondelle" e/s all over the lid from my Gentle Fumes Quad from the Smoke Signals Collection.


Step 2: Apply "Black Ivy" on the lower half of your lid just above the crease, it's a nice matte charcoal dark grey color, one of my favs!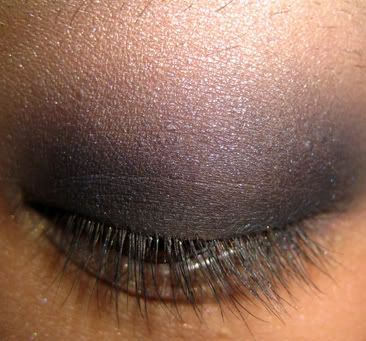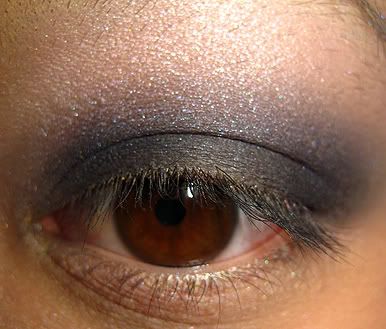 Step 3: Then take Milani "Shock" and using a BLENDING BRUSH, tap some on the tip of your brush and apply it using windshield wiping motions on top of the black (think like a rainbow where it's one color on top of another).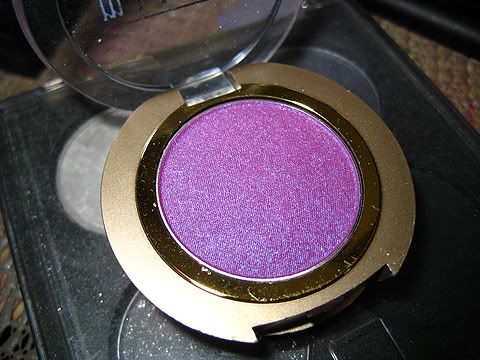 Step 4: Apply highlight.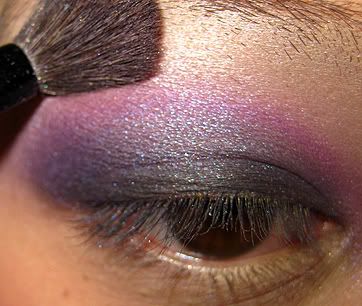 Should look like this:
Step 5: Add your eyeliner (if you wear e/l), and mascara.