My favorite color is purple. I think purple paired with ANY color is just gorgeous! So I did a look on Friday and I actually liked it a lot. I was able to play with makeup while the BF took a nap, hehe.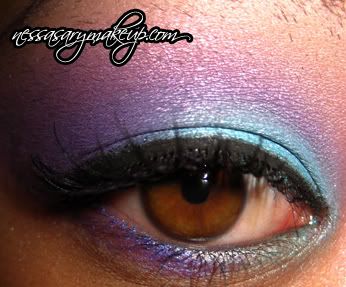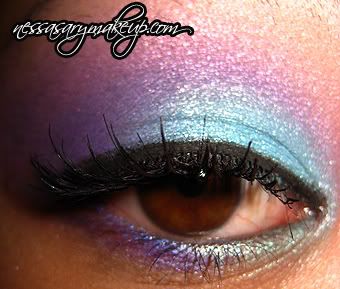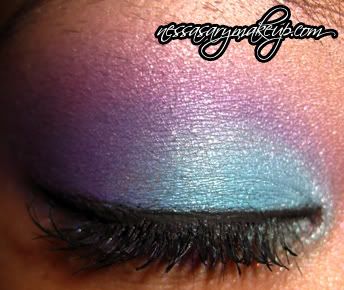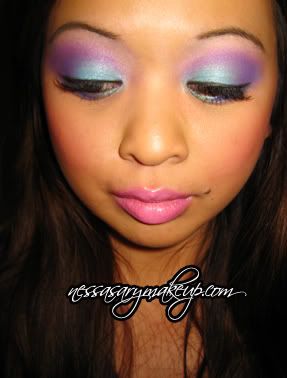 What I used-
Face:
– MAC Fix+ Spray before makeup application
– Monistat chafing gel as primer
– MAC StudioFinish Concealer NC30
– Silk Naturals Foundation
Cheeks:
– Valerie Beauty "Coquette" Blush
Eyes:
– MAC "Painterly" PP
– MAC e/s in "Mylar" all over the lid
– MUFE Flash Paint Pot in "Blue" as base on lower lid
– Milani "Sea Angel" e/s over MUFE
– MUFE eyeshadow #126 (I think) on outer-V and contour
– Pure Luxe "Amethyst" applied damp on outer-V and contour
– MAC Fluidline in "Nightfish"
– L'Oreal Telescopic Mascara
– Ardell Babies
– Ardell Magic Lash
Lips:
– MAC l/s in "Melrose Mood"
– MAC l/g in "Starlet Kiss"
And since everyone is doing them virtual makeovers, I thought id do one on Jon's niece and it was pretty hilarious. It's my main pic on my MySpace and people thought I really put makeup on a baby, HAHA, no no, i'd never do that! But it was just so cute. I sent it to her mom and she loved her princess's new makeover, LOL.
It's a pretty cool site, in case you are wondering I did it on Taaz.com
The original picture is on the LEFT: