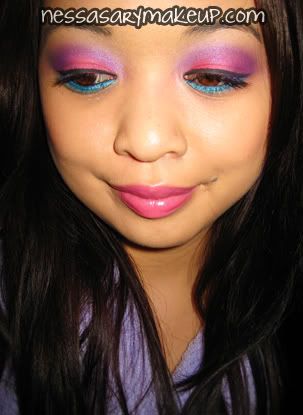 I tweaked the "A Rose Romance" look and made it more me by making it a little more vibrant, but also using the same key colors: pink, purple, and blue.
Just a quick run-down on what I used:
[Face]
– MAC Prep + Prime Skin Base
– MAC Studio Tech Foundation in NC35
[Cheeks]
– MAC Beauty Powder in "Blush of Youth"
[Eyes]
– Smashbox Photo Finish Lid Primer
– MAC e/s in "Trophy Pink" from the Antiquitease Holiday Cool Palette on lid
– Lime Crime e/s in "Empress" on contour
– MAC e/s in "Ricepaper" as highlight
– Revlon Colorstay Liquid Eye Pen
– L'Oreal Telescopic Mascara
– MAC pigment in "Mutiny" and UD Eye Pencil in "Electric" on lower lashline
[Lips]
– MAC "Magnetique" lipglass
I also did a little Hawaii shopping and ordered a few things online for my trip; even though it's in August, so many good deals are going on right now I just couldn't pass 'em up! So I bought a few swimsuits, since I am gonna be there for nearly 2 weeks, and I also bought some water shoes because last time my sister and I went to Hawaii we cut our feet from the coral and the jagged rocks when we went snorkeling, and since I plan on getting "rugged" this time, I thought id get a pair of water shoes, and they are actually pretty cool as they have "drain holes" at the bottom for the water, and it's made out of the wet suit material so it dries fast. No walking around with mushy, wet, squeaky shoes!
Swimsuit from Target, I don't like it as a bandeau, but it comes with a strap so you can make it into a halter….you can bet im hitting the gym hardcore now to fit in it! LOL.

From Spiegel.com

From Landsend.com
A swimsuit cover up with a hood:

Watershoes:

And y'all know I LOVE Twilight, so I thought this was funny: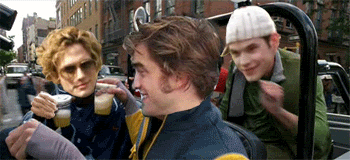 Oh how I wish this was true! LOL