So having the boyfriend at work was…well let's just say interesting. He was in the office before I got there, and when I got to my desk, there was tape under my optical mouse (so it won't move), then he switched all the keys on my keyboard so then of course the letters were not in the right order so I had to sit there and pop them all out and put them back in its correct order, and then he wrote on each day of my calendar "Jon's Day"…argh! I love him and yet he frustrates me at the same time! haha…my co-workers of course thought he was just the sweetest and nicest thing ever, IF they only knew what I deal with at home! He seriously tired me out I fell asleep as soon as we got home.
I know many of us have at least one NYX eyeshadow trio if not more, and many of you gals have MAC Palettes that need to be filled to conserve space, so how do you depot your precious NYX eyeshadows?
Read on and find out how! Hope it helps you gals!
I know EnKore has a video on this, but I tried it out his way and it didn't work out for me as I ended up crushing my eyeshadow and actually took longer for me…so whichever method works for you.


Tools you need:
– PATIENCE

– Tiny FLATHEAD screwdriver (found in eyeglass repair kits in drugstores, the clear square tube with the red cap)
– A candle
– A good pair of tweezers
– A papertowel or a towel (to cushion the eyeshadow when it is depotted)
– Your empty palette that needs to be filled
STEP 1:
Your NYX Eyeshadow Trio BEFORE depotting, nicely in tact!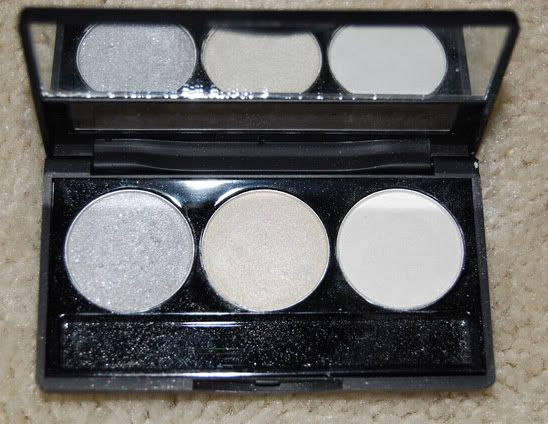 STEP 2:
Using the tiny flathead screwdriver from your eyeglass repair kit, gently pry and push the flathead into the side of the eyeshadow palette to pop it up:

It should now look like this: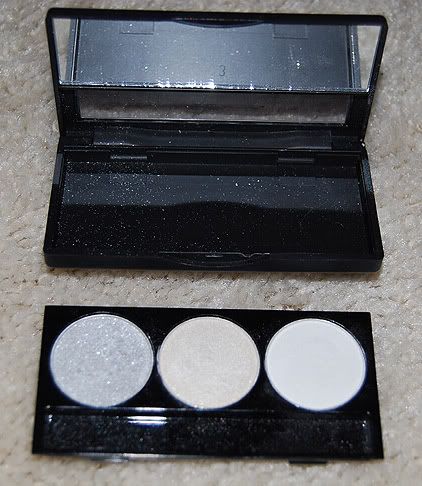 STEP 3:
Then take your tweezers and hold the eyeshadows over a flame, don't let it actually touch the flame just hold it over until the plastic starts to bubble and melt, you don't have to leave it there too long, once the plastic starts to melt a bit, the glue inside holding the eyeshadow is already soft enough to be depotted.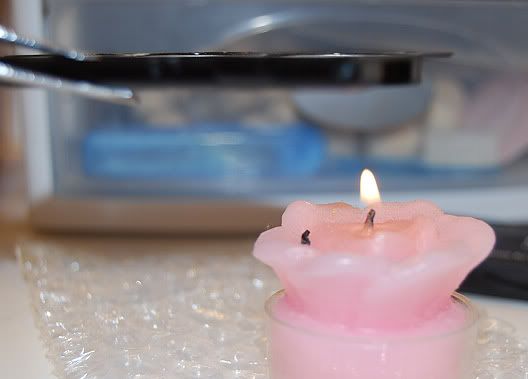 The melted plastic should look like this, just melted enough but not too much: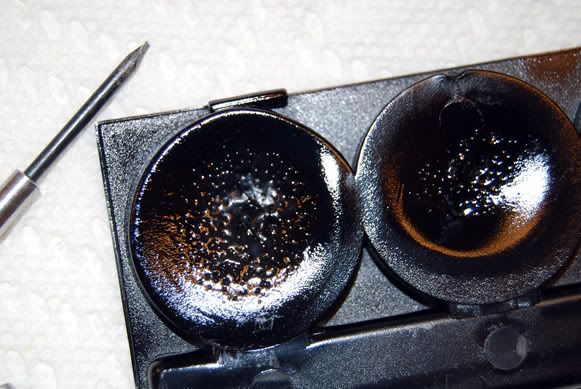 STEP 4:
Take a towel or a papertowel and use it to cushion the eyeshadow when you depot it out of its original pan, place the eyeshadows FACE DOWN onto the paper towel (still using the tweezers to hold them, CAREFUL IT'S STILL HOT!) Using your flathead screwdriver, poke through the melted plastic until the eyeshadow pops out. Let it cool on the paper towel or towel before placing it into your palette.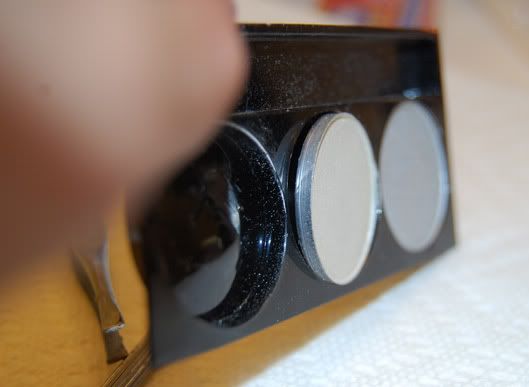 STEP 5: Then its ready to be placed in your palette!