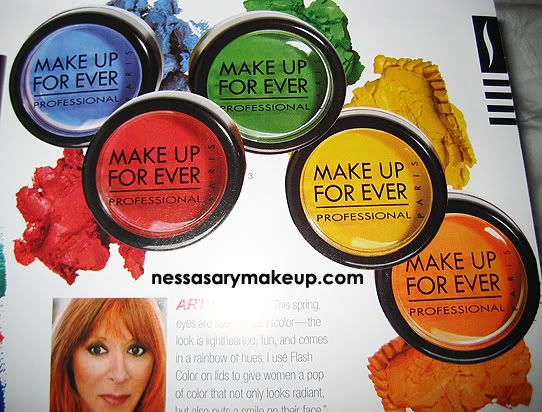 I recently got my Sephora catalog and have been lemming the Makeup Forever Flash Color pots ($17 each) because they are so pigmented, come in a wide array of colors, AND remind me so much of the MAC Paint Pots. I have always loved Makeup Forever, even moreso than MAC *shocker*! They are incredibly fused with color and have a nice finish; I just hate how expensive their products are! One eyeshadow is $18!
I desperately wanted to try them (the funnest part of being a beauty blogger is the testing phase), so I called my local Sephora and had them hold some colors for me based on the ones I saw on their website: Turquoise, Leaf Green, Purple, and Coral. They can be used ANYWHERE, eyes, face, lips, and body.
I ran home and was in AWE! They are GORGEOUS and absolutely vibrant! I missed out on the Alexander McQueen Collection from MAC so I never got the "Other Worldly" Paint Pot, so I was happy that Turquoise was a good dupe. This color isn't even turquoise to me, but more of a sky blue, yet it says turquoise. I can't wait to do a look with these and really try 'em out!
Here are the pics & swatches(no base, applied as is):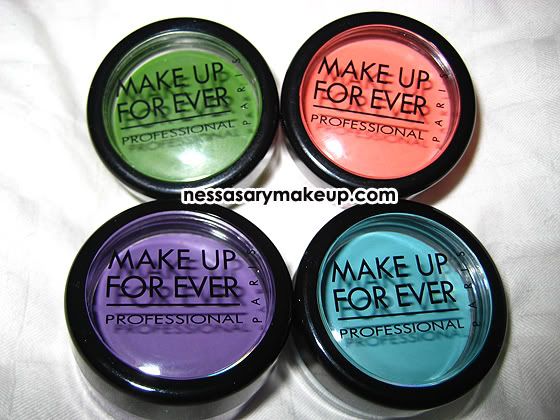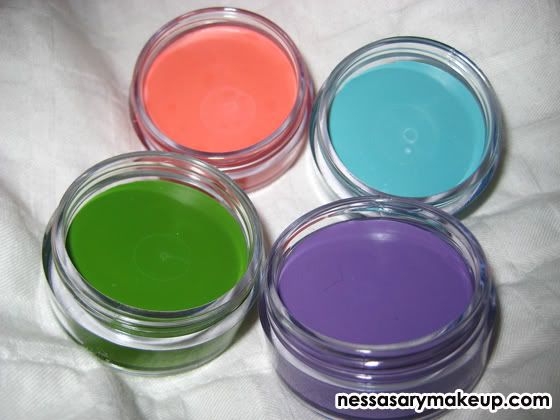 Swatches:



Without Flash: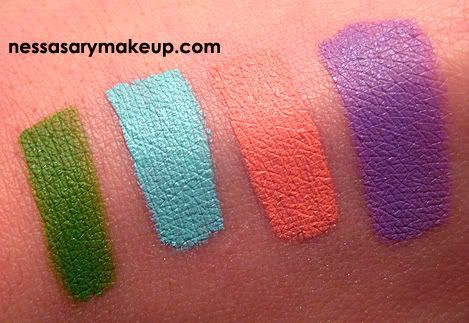 I want to re-create this look: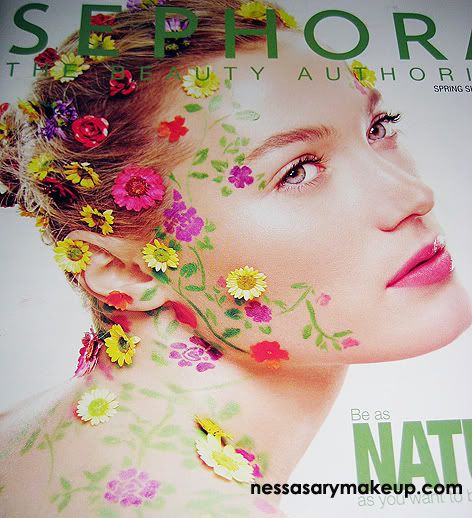 Aren't they just the prettiest little things?? I WILL DO a thorough review on it soon.
I also re-did my nails and got a black line instead of my usual silver:

The BF and I went on a nice little date to a Japanese Restaurant in Pasadena, he is hanging out with his friend on Saturday and I guess he felt bad because it's "our day" so he took me shopping after dinner at the ULTA store across the street. Yay! He is too sweet! I went a little crazy because I hardly go to ULTA and because heck it was the BF's treat! LOL. Many of you have asked: ULTA EYESHADOWS FIT ONLY IN THE NIXIE PALETTE, NOT MAC PALETTES. (WWW.NIXIECOSMETICS.COM)

Here's what I got: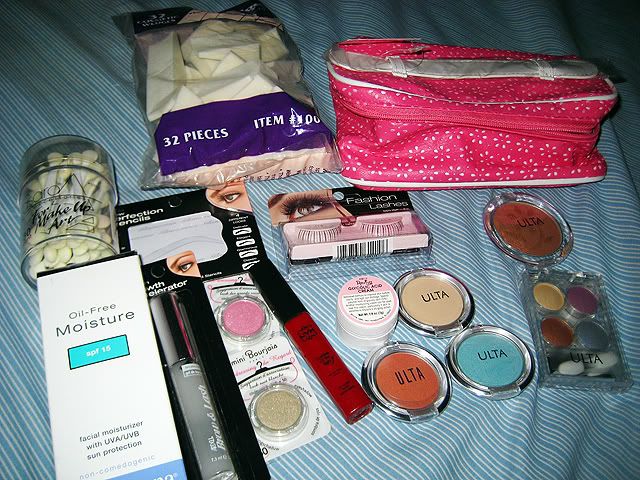 – More sponge makeup wedges
– Sponge-tipped applicators
– NYX Lipgloss in "Plush Red" (nice DEEP burgundy red)
– Ardell lower eyelashes falsies
– Ardell Brow & Lash Growth Accelerator to help speed up the growth of brittle eyelashes and eyebrows
– 3 ULTA eyeshadows (Which got me the free gift in the pink bag!): Bone, Knit, and Breeze
– Ardell Eyebrow Stencils
– Neutrogena Moisturizer
– 2 Bourjois eyeshadows
– Glycolic Acid Cream (to smooth the texture of your skin)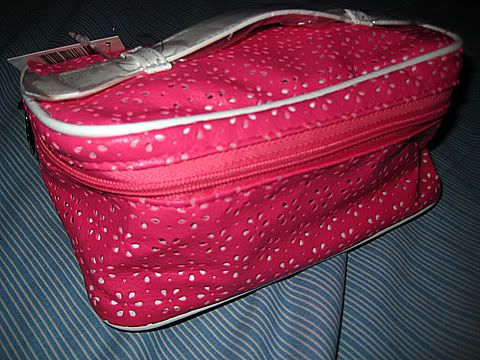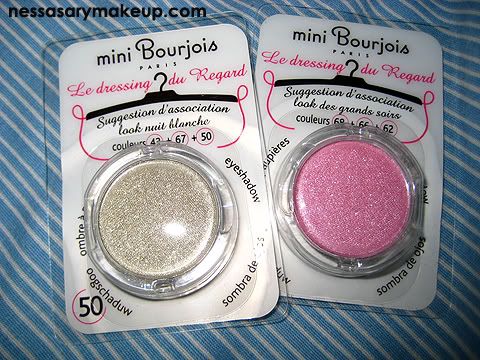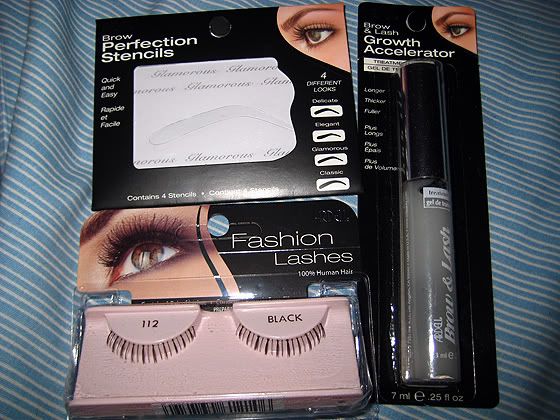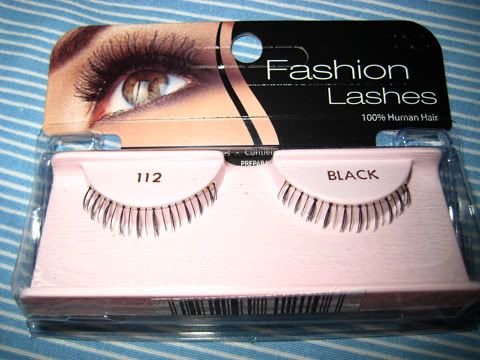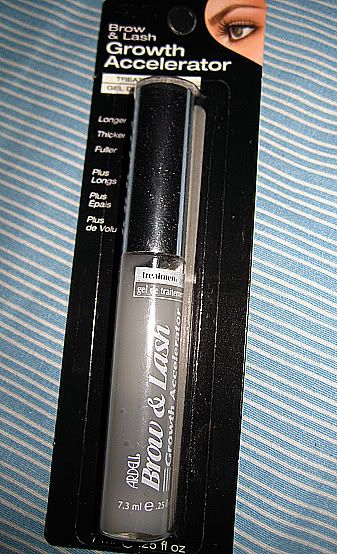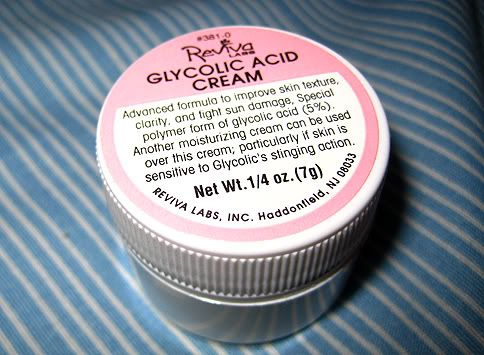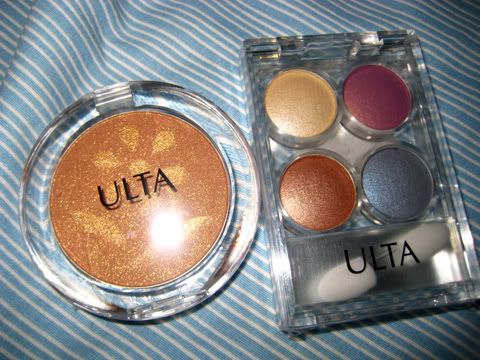 Top: Knit (Orange) & Breeze (Blue) on the Bottom: Bone