Jess requested a tutorial on how I apply my blush for a more natural and softer look, so I did a quick video on it since it's probably easier to get my point across instead of pictures. ***For reference, I am not a fan of doing videos, I get too nervous and end up sounding like a complete putz, LOL. So be easy on me haha. And yes that is an Island Pacific box behind me that my grandma gave me to help me pack some stuff (as the BF and I are preparing to get our own digs so im starting to pack up the junk I am not using now). It's just hilarious it's there in the background, gotta love grandma.
I will be posting all my videos on Vimeo from now on simply because the quality of the video is phenomenal, and there are zero haters on Vimeo which I love. It's $60 bucks a year for the premium service which is well worth it to me if that means cutting out the immature people and the many content-stealing on YouTube and having awesome quality videos. I may still add it also on YouTube for my subscribers, but for now I will be posting on Vimeo solely.
Also, for those of you who asked about the Cosme Land store, it looks like it is Ohayo minus most of the houseware stuff, so it's mostly and mainly beauty products that were in Ohayo, including the beloved Mandom makeup remover!
Here are a few "work-friendly" pics to illustrate the tutorial, I also used the stippling brush from PurelyCosmetics.com: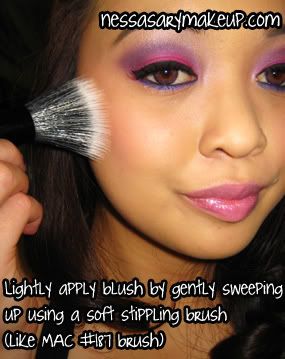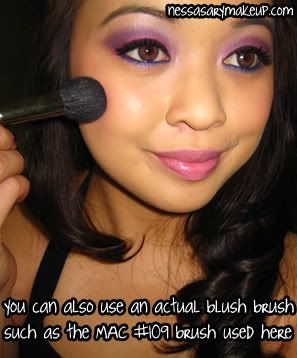 And this is just another pink & purple FOTD, I have done a very similar look before but I made it more vibrant by using MakeUp For Ever's bright pink eyeshadow #9 and MAC lipstick in "Lavender Whip".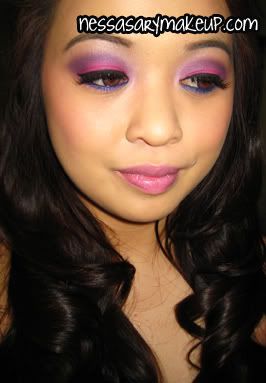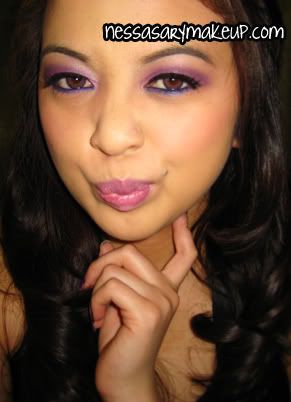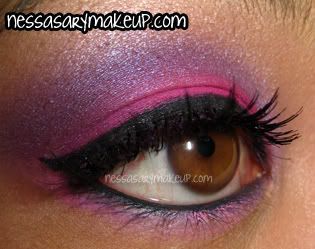 What I used:
[Face]
– Purely Cosmetics Oil Absorb Powder & Silk Primer Powder (review coming soon!)
– MAC Studio Sculpt Concealer in NC30
– Purely Cosmetics Mineral Foundation in "Olive Beige"
[Cheeks}
– NYX Blush in "Pinky"
[Eyes]
– MAC paint pot in "Girl Friendly" as base
– MAC e/s in "Romping"(on top of PP)
– MUFE e/s #9 (over romping)
– MAC e/s in "Nocturnelle" and "Satellite Dreams" on outer-V and contour
– MAC e/s in "Shadowy Lady" on outer-v
– MAC e/s in "Ricepaper" as highlight
– MAC Fluidline in "Blacktrack"
– Ardell falsies (forgot the #)
– L'Oreal Telescopic Mascara
– Urban Decay eye pencil in "Lust" on lower lashline
[Lips]
– MAC l/s in "Lavender Whip"
– MAC Dazzleglass in "Funtabulous"