Say whaaaa?? Barbie loves MAC…err…I mean Stila?!
Yes my lovely ladies, Barbie is celebrating their 50th birthday and Stila has come out with their version of Barbie-esque makeup, featuring tin can sets of iconic Barbie that includes a 3 pan eyeshadow, a lipgloss, and a mascara (one with an eyeliner and they are all different); each tin with its own unique Barbie on it ($40 a set). Check it out on Sephora.com.
So whatdya ladies think? Would you buy a barbie set? Why or why not?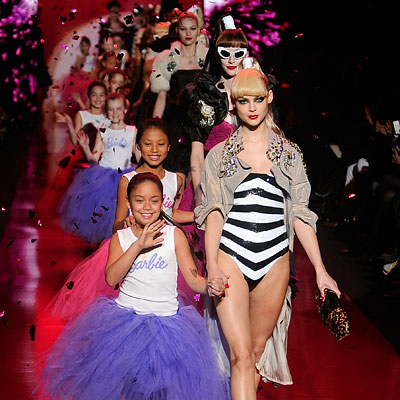 1959 #1 Ponytail Doll


* 3 Pan Palette with a deep blue eye shadow with white shimmer, a matte black eye shadow, and a luminous coral cheek color
* Lip Color in Ponytail (matte cherry red)
* Liquid Eye Liner in Black
1971 Malibu Doll


* 3 Pan Palette with a soft shimmering pale pink eye shadow, a sky blue eye shadow with white shimmer, and a golden bronze bronzer
* Lip Glaze in Malibu (pale pinky peach)
* Lash Visor Waterproof Mascara in Black
1980 Foxy Doll


* 3 Pan Palette with soft wheat eye shadow with white shimmer, mid-tone brown. with gold shimmer, and matte soft berry cheek color
* Lip Glaze in Foxy (sheer tangerine color)
* Lash Visor Waterproof Mascara in Black
2000 Jewel Doll


* 3 Pan Palette with a tan eye shadow with pink shimmer, a brown eye shadow. with gold and brown shimmer, and a shimmering pink cheek color
* Lip Glaze in Jewel (shimmering vivid pink)
* Multi-effect Mascara in Black
Stila Talking Palette