Finally did a quick look using a lippie and lipgloss from the MAC Wonder Woman collection: Spitfire and Athena's Kiss. I am loving this combo! It looks amazing in person. Also added in a OOTD since I haven't in awhile. Top and belt is from 'Papaya'. Leggings from Ross. And my favorite boots from Chinese Laundry.
But first! I have some news to share with you all…we have finally picked a wedding date and booked our venue! We will be getting married on March 25, 2012 (a day after my dad's birthday!). There's no significance to the date, but we figured it won't be as hot weather wise (as oppose to doing it on our actual anniversary in July), and because it's during the "off-season", it saves us a ton of money to put toward other things.
So we are very excited! I know it's gonna be stressful trying to get everything together but I have a great group of friends who are ready and willing to help, and I am just looking forward to also being able to share this day with our friends and families.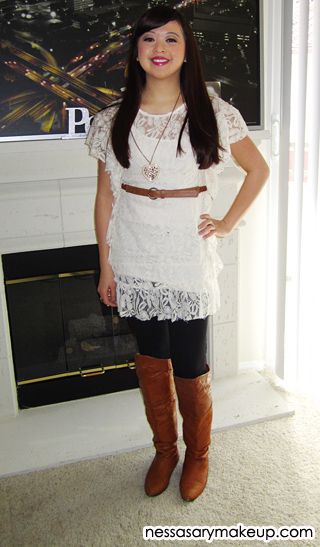 What I used:
[Face]
– MAC Pro Longwear Concealer in NC20
– MAC Studio Fix Concealer in NC30
– MAC Pro Longwear Foundation in NC35 (with a drop of mixing medium to thin it out)
[Cheeks]
– MAC blush in "Springsheen"
– MAC blush in "Margin"
[Eyes]
– MAC "Painterly" PP on lid as a base
– MAC "Bisque" and "Orb" e/s all over lid
– UD Naked Palette e/s in "Buck" and "Smog" on contour
– MAC fluidline in "Blacktrack
– No name lashes
– UD eyeliner in "Corrupt" on lower lashline
[Lips]
– MAC Wonder Woman l/s in "Spitfire"
– MAC Wonder Woman l/g in "Athena's Kiss"