.::EDIT::. The MAC Stores near me (Glendale Mall and Topanga) have taken my depotted MAC eyeshadows even without the pan, I have heard last year that they were no longer taking those, but it never hurts to try as I have never had an issue with it. Also, you CAN use back 2 mac for LE (limited edition) items.
Happy Friday Gorgeous Readers! Hope you guys have fun plans for the weekend! I am just going to spend the weekend with some friends and relax for once! And definitely sleep in!
Anyway, I had 12 empty MAC containers for back 2 mac so I traded them in for "Money, Honey" Dazzleglass and the "Angel" lipstick. For those of you who don't know about back 2 mac, it's MAC's recycling program in which you can trade in 6 empty containers (NOT the packaging!)for ONE brand new MAC eye shadow (not the refills), a lipglass/dazzleglass, or an eyeshadow. This applies for freestanding MAC stores only, not department store MAC counters. At Nordstroms, Macy's, Bloomingdales, etc. you can only trade it in for a lipstick. (At least last time I checked…)
I personally like to accumulate my empties and then trade 'em in, rather than 6 at a time (unless I am impatient and need it right then and there which I often am! LOL)
"Angel" lipstick is the perfect nude pink, where it's not TOO pink, and not TOO nude- but just right. Reminds me of the "California Dreamin'" free lipstick MAC gave out to California residents last year. "Money, Honey" has tons of shimmer I love it! Makes your lips look like bling! HAHA.
Someone asked about the glamourdolleyes sample jars and how much product is in it, etc. It is definitely a generous amount of product for a sample, probably enough for 10+ uses! I supplied a pic at the bottom of this post so you can see for yourself how much product is in just a sample size!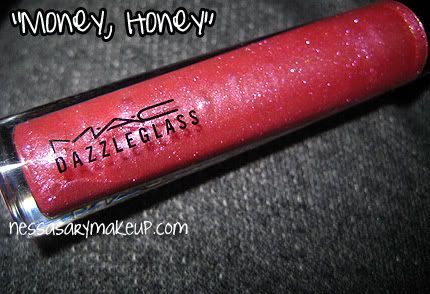 By itself, no lipstick or primer underneath: