I get some requests for a more natural, everyday look that you gals can wear to the office, school, grocery store…something quick and easy- yet natural.
Estimated "get-ready" time: 10 minutes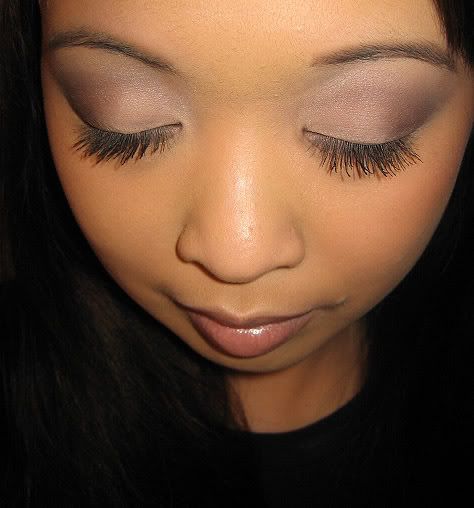 Well for this look, I used:
– MAC Paints in "Chiaroscuro"
– MAC's eyeshadow in "Bisque"
– MAC's eyeshadow in "Mulch"
– Milani eyeshadown in "Antique Gold" (you don't really need to put this one)
– Carbon Black Mascara
– NO EYELINER
– Everyday Minerals in "Winged Butter" (Intensive)
– Revlon's Blush in "Blushed"
For lips:
– Laura Geller's Lip Primer
– Sephora Lip Liner
– A cream/beige shiny lipgloss from when Forever 21 made makeup…


Put your highlighting base all over your lid, and put the "bisque" ONLY slightly above your crease, not the entire lid, then take an angled brush and apply the "mulch" starting from the outer part of your lid towards the center and outline the TOP of your lid only, use a blending brush to get rid of any harsh lines.
*If you don't have any MAC Paints, you can use a shimmery cream eyeshadow in place, I like Laura Geller's Cream Eyeshadow Duo Wand:

Apply lots of coats of mascara, don't use eyeliner!
Apply your foundation and blush. Then shade in your eyebrows.
For the lips, I primed it first with Laura Geller's Lip Primer, you can use a cream foundation or concealer as a primer, it's important to use a primer for your lips to bring out the true color of lipsticks or lipglosses as well as giving it something to hold onto. After the primer, I used a nude lipliner and topped it off with a sheer lipgloss.
Primed lip:

Ta-da!

I also bought "Model in a Bottle", so I will try it and let you know the result.