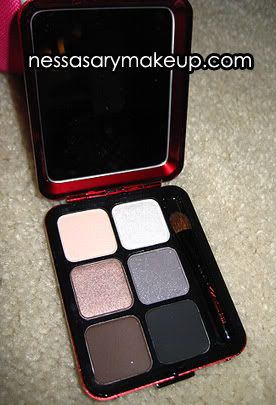 I was going through my makeup stash and decided to dust off my MAC holiday smokey eye palette (from 2008 ish I think?), I like that it's not too smokey or too heavy, it's soft enough to make a statement without overpowering your face.
I used MAC Paint Pot in "Painterly" all over my lid as a base, and then applied "Dark Devotion" and a smidge of "Carbon" on the lower half of my lid and wanted to achieve a gradient effect (light to dark, dark to light), so I applied "Satin Taupe" in my crease then used "Scant" to highlight up to the browbone. Here's a quick tutorial, it was actually really easy to do.
What I used:
[Face]:
– MAC Pro Long Wear Concealer in NC20
– MAC Pro Long Wear Foundation in NC35
[Cheeks]:
– MAC MSF in "Stereo Rose"
– Korres Sunglow Warm for contouring
[Eyes]:
– MAC Smokey Eye Palette (Dark devotion, Satin Taupe, and Scant)
– MAC Fluidline in "Blacktrack"
– UD Eyeliner in Whiskey on lower lashline
– L'Oreal Telescopic mascara in Black
[Lips]:
– MAC lipstick in "Creme Cup"
– MAC Viva Glam Lady Gaga lipglass.