A reader said I should post more pictures of what I wear, so i'll try (if I can remember). I wouldn't consider myself a fashionista or a stylist by any means, but I do have some background as a visual merchandiser. Working at Forever 21 years ago allowed me to learn how to put pieces and accessories together, especially when you have ladies coming in asking YOU to help them come up with an outfit or to match something, you learn a lot. I was the person that dressed up the mannequins, and did "color stories" for the store (like when you walk into a store and some of the walls are color coordinating), I worked exclusively with the District Manager who had magazine cut outs of what's in style, and I enjoyed it mainly because it allowed me to be creative and play with colors.
Usually I am wearing jeans, my chucks, and a shirt to work since it's just work, but on the weekends I like to dress up a bit and be a little more girly. I barely started getting into wearing dresses like a year ago because I hate my legs, and I hate showing skin, lol. But because the weather here in Cali has been so frikkin' hot, I like wearing flowy, light dresses.
Here is what I wore this last weekend, I bought it from WetSeal since I have their Club Card discount thing…the one thing I love about WetSeal (and other stores) is their return policy, I hate Forever 21 (ironic isn't it?) because their return policy sucks. You can only get a store credit, and if you lost your receipt, your screwed. The BELT is from H&M, which I bought when I was in New York, I also bought it in black because it's too cute! If you gals are ever looking for good belts, H&M, WetSeal, Windsor, and Charlotte Russe have awesome belts at a good price. H&M is my favorite place to get belts, they have really nice quality belts for cheap!
I know, I need a tan, and my arm looks darker because of the shade, lol: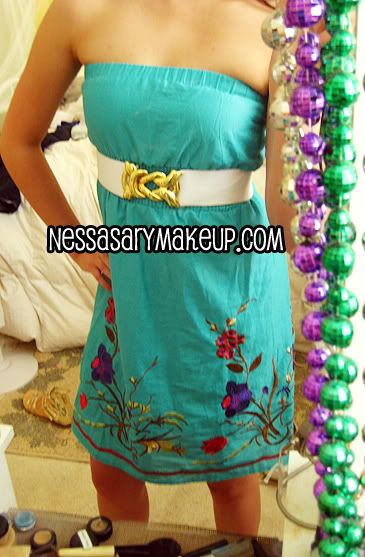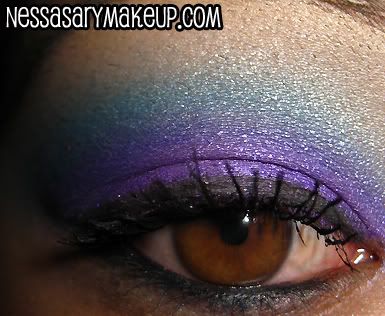 Eyes:
– MAC e/s in "Femme Fi" as highlight and all over lid color
– Pure Luxe e/s in "Grape" on lower half of the lid (applied wet)
– Fyrinnae's "Digital Faerie" on top of "grape" (applied wet and blended out)
– MAC e/s in "Parrot" blended with "Digital Faerie"
– MAC Fluidline in "Nightfish"
– Tiffa Mascara Base
– L'Oreal Telescopic Mascara
– Milani Eye Pencil in Black smudged on lower lashline.