***Yes I will be working on a contour video soon focusing on the new sculpt and shape compacts, though it is pretty similar to the last contouring video I did, however I will do one using the new 138 brush as well as highlighting, stay tuned!***
I finally had the guts to do a fotd using the orange NYX eyeshadow I bought a few weeks ago: "Golden Orange".
At first I was a bit disappointed at the way it was turning out, let's say it was a tad bit TOO bright of an orange, so I then took a little bit of gold and a grey-ish color over it to tone it down a little bit, then I was happy with it haha…it's a nice change for me and I really like how simple and subdued it looks.
In case you are wondering how I did my hair, I had a crimper/waver I had for YEARS and thought id dust it off and bring it back to life, I actually liked it a lot because usually my hair is just dead straight since I am super lazy. I might just do it more often…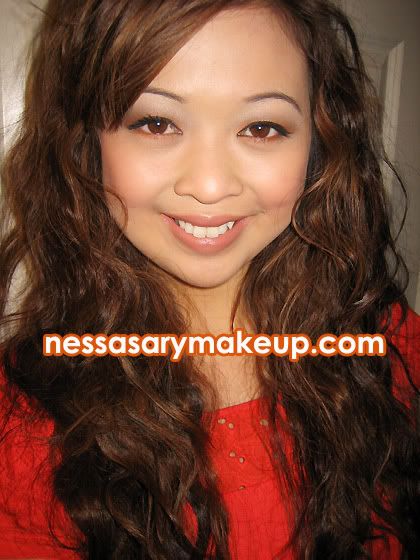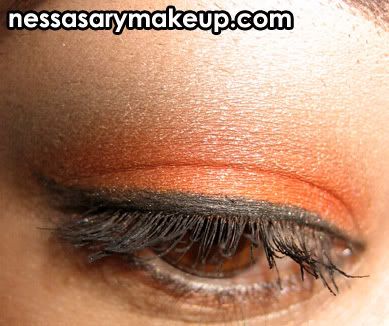 What I used:
Face:
– Smashbox Photo Finish Primer
– Silk Naturals Foundation
Cheeks:
– For contour I used "Sculpt" Powder
– Applied "Accentuate" on nose and apples of cheeks
– Blush: Milani "Luminous"
Eyes:
– MAC Paint Pot in "Painterly" as base
– MAC "Your Ladyship" Pigment over entire lid
– NYX single eyeshadow in "Golden Orange" on lower half of the lid just above the crease
– Milani eyeshadows "Sun Goddess" and "Mercury" (with a little "Storm") above the orange
– Nixie Liquid Eyeliner in "Black"
– Covergirl LashBlast Mascara in "Blackest Black"
Lips:
– AVON Lipstick in "Nude Pink"