Wow! The sale was a big success, it went a lot faster than I thought! Sorry to you gals who missed out on certain items, mostly everything went fast, but don't worry, I still have a lot of stash cleaning to do, so there will probably be another sale soon in a few weeks!
I emailed those who were interested in the items, if they don't respond by Tuesday I will then go to the second interested buyer.
And to reader JENNIFER who was interested in the gel eyeliner, leave me your email addy so I can invoice ya.
Anyway, I did a bronze, sorta natural look on Friday using 2 of the Urban Decay eyeshadows "Shag" and "Underground". I was going for a neutral, yet bronzy look…I actually liked it, probably enough to use for an everyday look. The co-workers loved it, especially since they are used to me with the crazy vibrant color combos! LOL.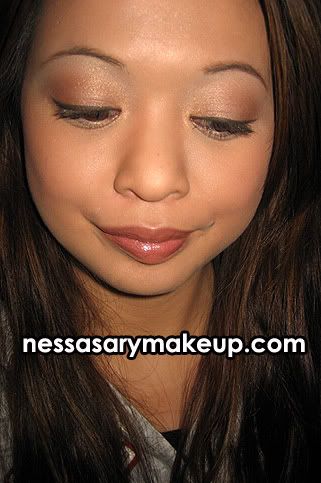 What I used:
Face:
– EoB Airbrush Primer
– Silk Naturals Foundation
– MAC Sculpting Powder to contour sides of nose
Cheeks:
– Everyday Minerals Blush in "Waffle Cone"
– Milani Blush in "Luminous"
– MAC Beauty Powder in "Drizzlegold"
Eyes:
– Physician's Formula Concealer
– UDPP for base
– MAC Pigment in "Your Ladyship" (all over the lid)
– Urban Decay eyeshadow in "Underground" (on lower half of the lid above the crease)
– Urban Decay eyeshadow in "Shag" (on outer-half of the lid)
– MAC "Golden Lemon" Pigment in the inner corners
– MAC Fluidline in "Nightfish"
– Laura Mercier Mascara
Lips:
– AVON Lipstick in "Nude Pink"
– Sephora Lip Liner #206
– Palladio Lipgloss in "Raisin"
_____________________________________________________________________________
For my FOTD I did yesterday, I used hepcat and pink mauve pigment.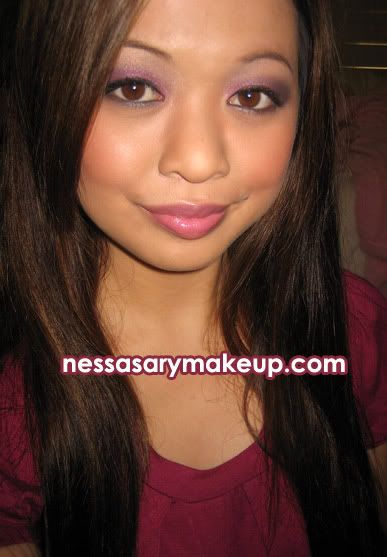 What I used:
Face:
– EoB Airbrush Primer
– MMBB Mineral Liquid Foundation in "Medium Beige"

Cheeks:
– Sonia Kushuk Blush in "Flamingo"
– MAC Beauty Powder in "Soft Flame"
Eyes:
– UDPP (urban decay primer potion)
– MAC Shadestick in "Crimsonaire"
– LA Colors Pink (in inner corners)
– MAC e/s in "Hepcat" (lower half of the lid just above the crease over Crimsonaire shadestick)
– MAC Pigment in "Pink Mauve" (lower half of the lid over hepcat)
– MAC e/s in "Knight Divine" and "Silver Ring" (on outer-V and contour)
– MAC e/s in "Nocturnelle"in between hepcat and outer-V
– Indelible Gel Eyeliner in "Black Out"
– Maybelline XXL Curl Mascara

Lips:
– Laura Geller Lip Spackle
– MARK Lipstick in "Mauve"
– Sephora Lip Liner #206
– Max Factor Lipgloss in "Stood Him Up"
– NYX Lipgloss in "Barbie Pink" in the middle of the lips