I was playing with some of my Purely Cosmetics eyeshadow minerals that Robyn sent me since I haven't had time to play with anything lately, and I love the combination of "Gold Leaf" and "Antique Copper". And I realized how much I hate my nose, lol. It bothers me so much for some reason. But thank goodness for makeup and contouring so I can make it look "nice", LOL. And in case you are wondering no I would not have rhinoplasty (if no pain was involved and it was cheap then yeah haha), I am not against plastic surgery, to each her own, but I am deathly afraid of being put under the knife- so that's a negative. LOL.
I applied "Gold Leaf" wet on the lower half of my lid, then applied "Antique Copper" wet (just a little bit) and gradually built up the color, then used a combination of MAC's "Copperbeam" pigment (pressed), and Milani's "Java Bean" and MAC "Mulch" e/s for a bit more color depth and shimmer.
Many of you ask me what exactly is CONTOURING when it comes to the eye- it's where your eyeball naturally sits. Take your finger and touch your eyelid until you feel the top of your eyeball, that's where you should contour (deepen the crease) with a darker color of that to your lid color to make your eyes stand out and pop out a bit more giving it more shape. Contouring your eye also can give the illusion of bigger eyes or smaller eyes. I know for you ladies it may be hard to achieve this if you have monolids, but you STILL can, just darken your outer-V, and contour a bit on the top (think like a sideways letter "J") but don't contour all the way as in the dark color reaches the inner corner of your eye- this will make your eyes look smaller. [Where you see the little brown arc on my eyelid is the contouring portion].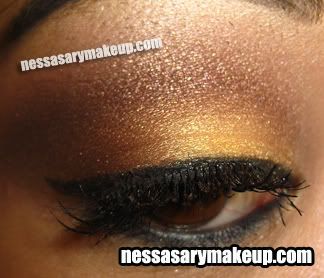 What I used:
[Face]
– Lorac Concealer
– MUFE HD Liquid Foundation in #127 (will do a review soon!)
– Purely Cosmetics Mineral Foundation in "Olive Beige" over MUFE
[Cheeks]
– MAC Sonic Chic blush in "Nuance"
[Eyebrows]
– Anastasia Brow Whiz Pencil in "Brunette"
– Anastasia Brow Pen
[Eyes]
– Purely Cosmetics(PC) mineral e/s in "Golden Leaf" all over the lower half of lid
– PC mineral e/s in "Antique Copper" on outer-V and contour
– Combination (mixed these eyeshadows together): MAC e/s in "Mulch", Milani "Java Bean", and MAC Pigment(pressed) in "Copperbeam", on outer-V and contour to add more depth and drama
– MAC e/s in "Ricepaper" as highlight on browbone
– MAC Fluidline in "Blacktrack"
– Cyber Colors Mascara in "Blackest Black"
– Ardell Falsies in "Babies"
– Lowerlashline: MAC Technakohl in "Graphblack"
[Lips]
– MAC l/s in "Cherish"
– MAC l/g in "Liqueur" (from Cult of Cherry)