I have had a lot of requests for this, so until I can get around to a video tutorial (which btw, has poor quality so you can't really see any detail), I thought id also post a picture tutorial on how to blend eyeshadows, the same goes for pigments and everything else.
When blending, tools are important, but skill is the key to mastering the art of blending, I know it sounds cheesy, but seriously, it's either you can or you can't. It's definitely something that takes time and practice for those of you who are makeup newbies. Just like my eye makeup photos, I get a lot of people asking me how to take a good eye makeup photo (which I mention HERE), and they come back to me saying it still doesn't look the same. Obviously I can't physically see your settings and let you know if it's correct or not because different cameras and settings works for different people; and keep in mind, I am also into photography so I sorta have this weird way of "framing" how I want it to look in my head and capture it with my camera and I sit here for hours playing with settings. But all in all, it's the skill that makes it or breaks it. Just keep at it ladies, and you'll be the Queens of Blending in no time!
I also get questions on what kinds of brushes or tools I use to achieve blending, as well as other brushes I use and for what purpose, I posted this originally back in October last year, but it's one of my popular posts. It includes detailed pictures and description of the brushes as well as its purpose, so definitely check it out by CLICKING HERE.
My Holy Grail Brush: The fluffy blending brush, MAC equivalent is the #217 brush. Any fat fluffy brush will do!
Left: Sonia Kushuk Blending Brush $3.99 (Target) on the Right: Sephora Crease Blending Brush ($16, Sephora.com)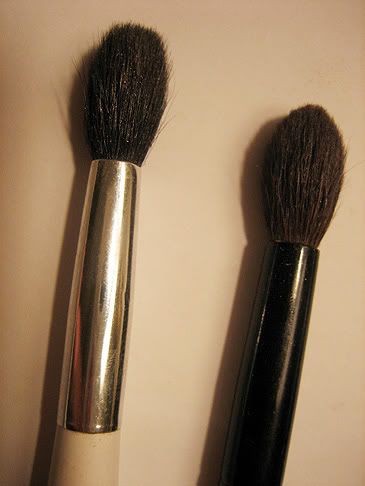 Here is the video again for the various kinds of brushes I use:

______________________________________________________________________________
Now ON WITH THE TUTORIAL!
(ANNE– I uploaded these on Flickr just for you! Let me know if you are able to see it. I have PRO membership on Photobucket, hence I upload there :/)
*I used "blues" so y'all can see it better…
What I used:
– UDPP Primer Potion
– MUFE Flash Color Pot in "White" all over lid
– MAC "Vanilla" pigment all over the lid and highlight
– MAC eyeshadow in "Electric Eel"
– Milani eyeshadow in "Blue Ice"
– Sephora Blending Brush
– Sponge-tipped applicator
STEP 1: Apply your eye primer of choice (UDPP, Paint Pot, etc.), using an eye primer makes your eyeshadow(s) more vibrant and it lasts longer!



STEP 2: (optional) I used MUFE Flash Color in White as an all over base color.

STEP 3: I then took MAC's Vanilla pigment and with my crease brush, took a little pigment from the jar cap and applied it all over my lid, concentrating more of the pigment on the highlight area.

STEP 4: Using your brush or sponge-tipped applicator (I love the control and vibrancy sponge-tipped applicators give), apply your light colored eyeshadow first on your lid, in this case MAC's e/s in "Electric Eel". ***Remember blending is similar to the gradient effect where it's light to dark.



It will look like this BEFORE blending:



STEP 5: Then apply the next color, in this tutorial I chose Milani e/s in "Blue Ice", and apply it on your outer-V, crease, and contour or wherever you'd like.

This is how it will look like BEFORE blending:

BLEND BOTH colors together…apply more eyeshadow if needed in case you blend too much that it lightens the color, including highlighting color.

STEP 6: Line your lower lashline and apply eyeliner and mascara (optional). I DID NOT use eyeliner in this tutorial to show more detail.



And this is how it looks like completed, AFTER BLENDING!