So it's been a long time coming and I finally had the courage once again to do another video! Yay me! I also realize how HARD it is to type with a band-aid! I had a little accident this morning, I was trying to open this hard plastic package wrap that was wrapped around my new Sephora eyeliner; that safety seal where you pull the perforated line all the way down the pencil to open it, well it went under my nail and cut the skin underneath there and boy did it hurt! You can see my ugly little band-aid in the video on my index finger, just thought id share, LOL.
I had some awesome questions and one of them was how to apply blush, I know it sounds easy, but if you do it wrong, you can look like you were rolling in some dirt. In addition to the video, I thought i'd explain it in text so it's a bit more "work friendly".
Q: Can you please give a tutorial on how to wear blush? I know it sounds pretty simple, but for some reason mine always comes out too harsh… its like there's a very distinct line as to where my blush starts. I have a round face so I don't really wear blush on my apples. Instead I suck in my cheeks and go from there. I also use the blush brush from MAC- the somewhat small angled one with the white bristles (I forgot the number and I don't have the brush on me). I was using a cheapy brush before and it worked fine, but I did spend the money the MAC brush so I want to be able to use it properly. Any tips?
A: First, I use the MAC #136 brush (I ACCIDENTLY said 186 brush in the video because I was looking at my 187 brush when I grabbed that one, oh well), my sis Stephie loves that brush too, it's also one of my favorite brushes next to the MAC 180 brush and the 187. I take a little blush, tap off any excess powder and then SMILE! Apply it on the apples of your cheeks and gently sweep it up to your temple or towards your ear in a back and forth motion.
Look after video tutorial (as it's hard to see color in videos):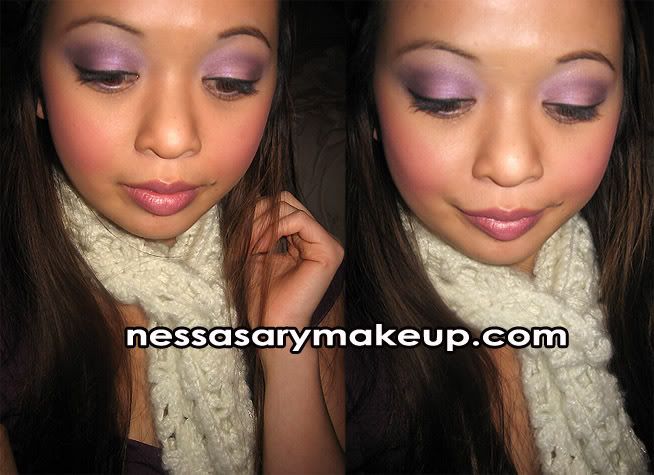 ________________________________________________________________________________
CONTOURING
I have a round face so I like to contour the hollow part of my cheeks when I make a squishy pucker face, as well as my jawline, and the sides of my nose. You can also contour or shade the sides of your forehead or temples. I use the MAC Sculpting Powder in "Sculpt" but you can use any dark powder or blush to achieve this.
Contouring helps certain areas recede and look slimming as well as more prominent. Shading the sides of my nose gives a nice soft illusion of a more narrow nose.