Product: 5 out of 5
Packaging: 5 out of 5
Price: 2 out of 5
Where you can get it: Sephora stores and online, QVC and HSN.com
I tried: Hydrating
I have always seen Ojon at my local Sephora but never bothered to give it a looksie until I attended the IECSC show and I bought the trial-size kit for $25 (pic below), which included:
– Hydrating Shampoo and Conditioner
– Hydrating Styling Cream
– Revitalizing Mist
– Ojon Restorative Hair Treatment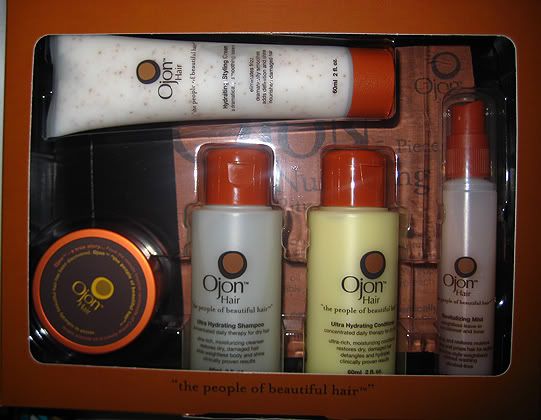 My hair has been super dry, especially the ends; and oddly enough I don't blow dry it or use any hot tools such as a straightener or a curling iron regularly, and the hot weather has just been making it so brittle. I used the kit for a week and the first two days I already could FEEL a difference in my hair. It was SO smooth, shiny, silky, and it didn't feel dry for the first time in a long time! Most of the hair products at the drugstores have alcohol in it which dries out your hair. With Ojon products, there is NO ALCOHOL, just the natural Ojon oils and other moisturizing ingredients.
I first put the Restorative Hair Treatment all over my hair and head, which smells like cocoa butter and the consistency is similar to butter sticks; you simply scoop some up on your hand and rub together 'till it becomes an oil. I applied it on my hair, putting more on the ends, and covered it with a shower cap and left it in overnight (it's ok to do this). In the morning I took a shower and used the Hydrating Shampoo, followed by the conditioner, after on towel-dried hair, I spritzed on the Revitalizing Mist and applied a dime sized amount of the hydrating cream, and voila smooth hair day by day!
Kit Featured: The kit shown here (green/white box) I bought from QVC.com, it's actually A LOT cheaper on QVC.com than Sephora. It's funny because I actually paid $32.80 each for another 5 piece travel kit (one for my mom), and they sent me the FULL-SIZED kit instead that had ALL the full-size products and the price on that one is $60! That's a steal!
PROS: Really makes my hair soft and brought back some of the moisture into my dry ends, can get a kit to test out some of their products at once, both at Sephora and QVC and HSN. A lot cheaper to buy from QVC.com, they have products to suit everyone's needs.
CONS: Some of their items smell, to some it may be horrible, but I get used to things fast. It just smells like natural oil, cocoa butter, just think organic and natural, that kind of a smell, but the shampoo, conditioner and revitalizing mist (to me) don't have a weird smell. It's also EXPENSIVE! Full-size shampoo costs $18 and the conditioner is $22. Check out the Sephora website for more details and pricing info.
Perfect for those of you who have: dry, brittle hair, or if you dye your hair a lot which has been causing the moisture to just be sucked out of your hair. Great for a "pick me up" to bring back your hair to life.