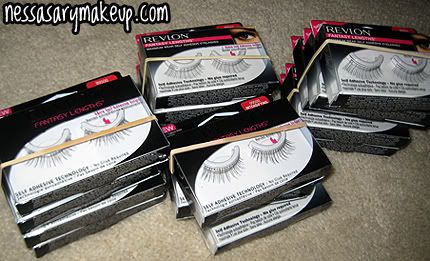 I recently had the opportunity to try some Revlon False Eyelashes, and they are pretty natural looking! I love how they don't need ANY glue whatsoever, so if you are a makeup artist on the go, or going away for the weekend, these make great additions to the makeup bag because you don't need to fumble for the glue.
Product: 4 out of 5
Packaging: 5 out of 5
Quality: 5 out of 5
Overall: 4 out of 5
Where to buy: Pretty much anywhere like drugstores, Target, Wal-Mart, etc.
Price: Ranges depending on store, but starts around $5+
Would I buy again: Yes
They describe them as: REVLON Fantasy Lengths Maximum Wear eyelashes are a revolutionary way to go from Plain Jane to Naturally Fantastic instantly. Without messy glue to fumble with – you can have perfect lashes that stay where you want them to – even in water!
My 2 cents: I haven't tried them in water, like swimming or taking a shower so I can't say whether they stay in those conditions, lol, but they do stay on pretty well considering there's just a glue adhesive but not actual glue (it's like comparing what stays on better, acrylic nails or sticker press-on nails). But these lashes don't fall off like I thought they would. I actually wore a pair (99501) to the Makeup Show in LA a few weekends ago, and they stayed on for a pretty long time.
The band itself is all black, not clear, so you don't have to worry too much about applying eyeliner if you are in a hurry to 'hide' the band. They don't feel any different (as in uncomfortable) in comparison to regular false eyelashes and each pair of falsies also comes with an EXTRA STRIP of adhesive so that you can re-use them (how awesome is that?!) AND it comes with a tiny plastic square looking thing that I forgot to take a picture of, but it basically is used to help you apply your false lash. You pretty much apply them the same way you apply regular falsies, but without the glue.
To apply the extra band, they have detailed instructions that come with each pair, basically just holding the lash next to the extra band, pressing so that it adheres to the lash, and voila, a brand new pair!
PROS:
– No glue is required
– Stays on well and lasts long (at least for me)
– Easy to find and it's affordable
– Very natural looking lashes, not heavy at all
– Comes with an extra adhesive strip so that you can re-use your lashes
CONS:
– They don't have a lot of variety as of yet in terms of the different styles of lashes like Ardell where they have different series of their lashes and various #'s for each pair(runway, glam, etc.)
Overall: Like I mentioned earlier, for those of you who are on the go, hate glue, or are challenged when it comes to applying falsies; then you might want to give these a try because they are pretty easy to use and easy to find. The only con is that they don't have much selection when it comes to the style of falsies you are looking for, but the ones they DO have are natural looking and soft.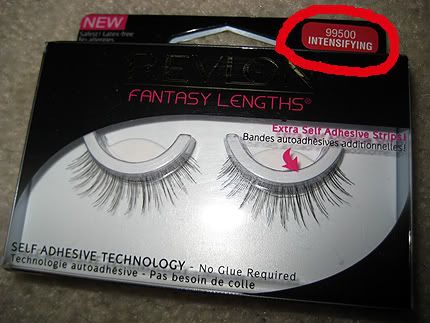 I didn't really go through and blend my lashes with these, but just so you can get an idea of how pretty and natural they look…