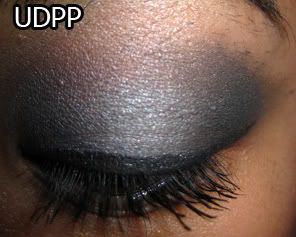 UDPP
(PROS)
– $16 at Sephora
– Has a doe-foot wand for application
– Nude eye base that increases the wear of eyeshadows and makes them crease-proof
– Stayed remarkable well one me after 9 hours
(CONS)
– The genie-shaped bottle makes it hard to access additional product, so you have to cut the bottle in half to scoop out the rest of the product
– 0.34 oz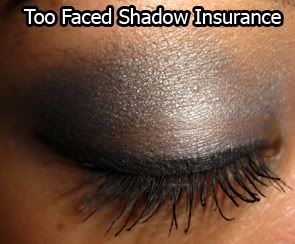 Too Faced Shadow Insurance
(PROS)
– Squeeze-tube bottle for easier access of the product, also no product is wasted because of their packaging
– 0.35 oz. a bit bigger than UDPP
– $17 at Sephora
– Don't need a lot of product to cover your entire lid
(CONS)
– Silicone based, so those of you allergic to dimethicone, silicone, etc. may not like this
– Creased on me after 9 hours
Lids: Dry, not oily.
Eyeshadows used: MAC e/s in "Cumulus", and MAC e/s in "Carbon"
Experiment: TFSI on the RIGHT eye, UDPP on the LEFT eye. Apply makeup like normal, go to work, have lunch in the sun, go home and see which one held up better. I applied the same amount of each product on both lids, nothing else applied on the lids before I applied these eyeshadow primers.
Overall? I like UDPP a lot better than TFSI. There was very minimal creasing, and it held up pretty well throughout the day considering I was also in the heat. It was also pretty vibrant in color whereas the eye with TFSI looked more faded. I know many of you like TFSI over UDPP, and I thought I would too, but when I took pictures of each eye when I got home 9 hours later, it was apparent which held up better. TFSI creased A LOT, as you can probably see in the picture, with UDPP still looks pretty good after 9 hours.
I definitely give UDPP 2 thumbs up! p.s. Hi Juli from the Bay Area!