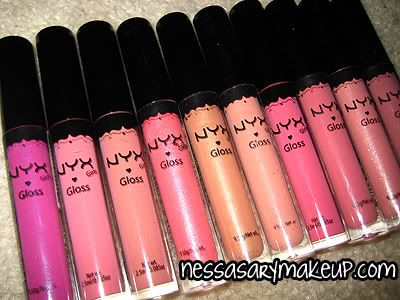 Everyone these days are on a tight budget, and since everyone loves a good dupe, I highly recommend NYX Round Lipglosses as a dupe for the MAC Cremesheen lipglosses. I originally did a review awhile back on the NYX round lipglosses and I do love how inexpensive they are ($1.99+ and you can find them on Cherryculture.com for $2) and they are very pigmented in just one swipe! I also have heard that NYX has reinforced their packaging because before the stopper would come off so you were left with globs of gloss on your wand. So that's a plus! (Leave a comment to enter for a chance to win 2 brand new NYX lipglosses!)
Many of the NYX round lipglosses I noticed are matte, no shimmer or glitter, just a nice sheer matte color- similar to that of the MAC Cremesheens. They also have some that have a touch of shimmer. Of course they are not exactly the same, but I think it's a very good dupe for those who don't wanna pay $18, and also the Cremesheen lipglosses are LIMITED EDITION (and most of them are already sold-out according to the MAC website, department store websites and actual stores) where as the NYX round lipglosses are always available. I think the differences among the two other than the price, is that the Cremesheens may stay on a bit longer than the NYX lipglosses as the NYX lipglosses seem more slippery. (I personally have not tried the Cremesheens but based on playing with it I can tell it's a bit more thick and stickier than the NYX lipglosses) so it probably stays on a lot longer.
Here are some swatches: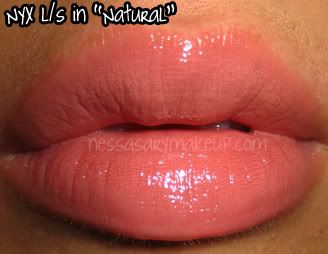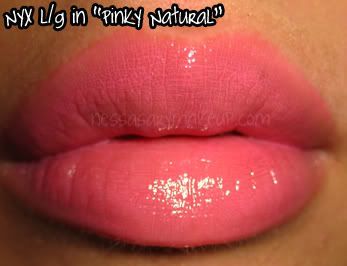 CLICK ON IMAGE TO ENLARGE: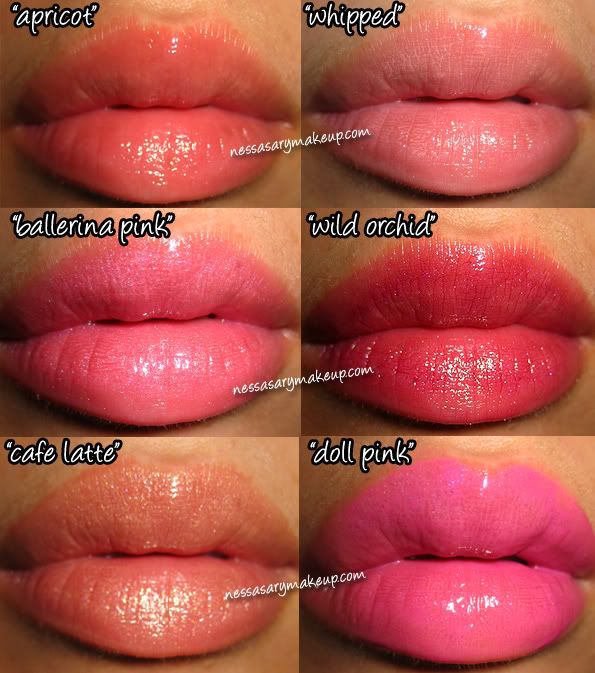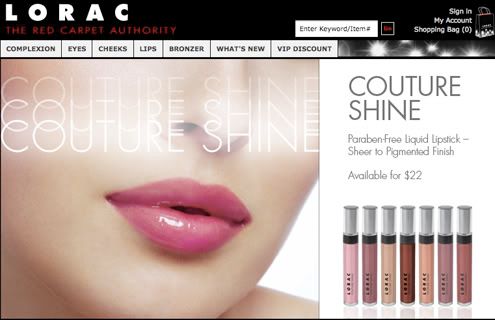 Lorac also came out with their new line of Couture lipglosses ($22), and I saw these at Sephora in which many of the shades are also matte or a bit of shimmer. My favorite is the one called "Haute", it's a nice soft baby pink.
Overall, if you are a beauty gal on a budget, definitely check out a few of the NYX round lipglosses!

ENTER THE CONTEST! ENTER FOR A CHANCE TO WIN 2 BRAND NEW NYX ROUND LIPGLOSSES IN "MAUVE" AND "REAL NUDE". SIMPLY LEAVE A COMMENT ON THIS POST (AND AN EMAIL OR A WAY TO CONTACT YOU FOR THOSE OF YOU WHO DO NOT HAVE BLOGGER OR AN ID) AND THE WINNER WILL BE CHOSEN AT RANDOM TOMORROW!