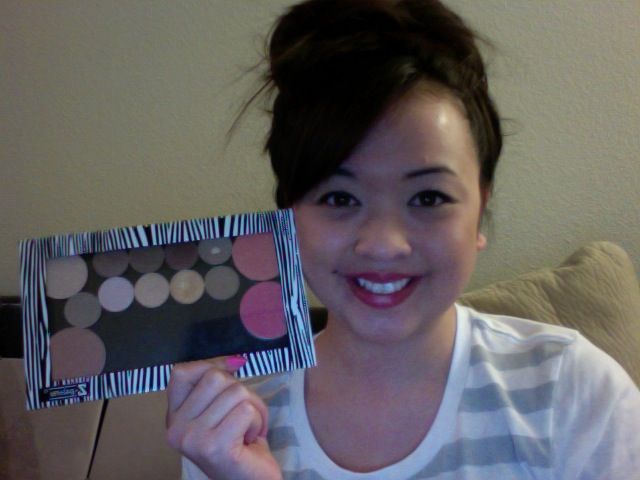 Comes in black, pink, leopard, and zebra print, and in two sizes (small/large)
Tina from Devucosmetics.com is so amazing! She responds to emails right away and answers any questions you may have; AND she was nice enough to give my readers 15% OFF your entire purchase! USE CODE: NESS15. They also ship internationally! I was honored when she asked if I would review some of her products because I was actually looking to buy a Z Palette. I have seen these palettes at every IMATS show and never bothered to get one, but I have TONS of MAC palettes, and it's a pain traveling with all those palettes or even trying to choose between certain ones; and the Z Palette eliminates some of that fuss.
For those of you who may not have not heard about Z Palette 's ($20), it's basically a customizable palette that's completely flat with a magnetic bottom (no pre-designed pots or worrying about pan sizes). If you have any pan refills that have a magnetic backing, such as MAC blushes, eyeshadows, etc. (it can be used with other brands as well), it can hold your pans so you have only what you want or need. It has a clear see-thru lid so you can easily see what's in your palette, no need for labeling…it's made of what feels like a really sturdy cardboard, but I am sure in time it will be subject to wear and tear and may start to get flimsy, or even the clear lid might start to get raggedy, but it's definitely strong enough to last you a long time.
Even if you have things you want to depot that DON'T have a magnetic backing, you can easily find magnetic dots or squares at any craft store and glue them to the back of the pan so that they can stick to the Z Palette. [Watch my video below to see a demo of the Z Palette in action].
Comparisons? In comparison to the MAC Palettes, they are not that much bigger (watch video to see them side by side), I like that these are bigger than the Unii palettes, and cheaper ($20 vs. $29/$30), even though I think the Unii palettes are really sturdy, well made, and innovative- they are just way too tiny for me. If they had them in a bigger size, I would love them! If I ever decide to get one, one of these days, I will compare them for you guys.
I also got a couple of fabulous lashes (which I already used in a FOTD, i'll post soon!) and a few brushes; the brushes are super soft, not scratchy or harsh, and I like that the ferrules and handles are all black- they look so sleek and professional!
Disclaimer: All product reviews and honest opinions on this site are solely that of my own and I am not endorsed, affiliated, or paid for this review unless otherwise specified. These products were given for review consideration by http://www.devucosmetics.com.