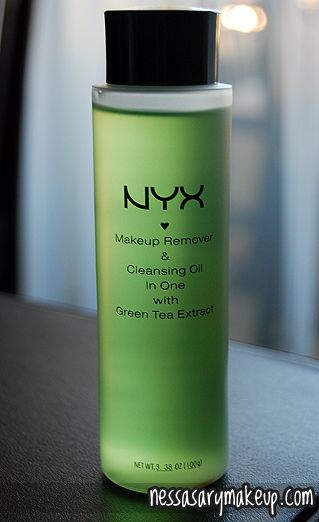 Product: 3 out of 5
Packaging: 4 out of 5
Overall: 3 out of 5
Price: $10, Cherryculture.com
Would I re-purchase? No
What it is: Makeup remover and cleansing oil in one infused with green tea extract, mineral oils, Vitamin A, Vitamin E to moisturize and condition skin while removing the heaviest and most resistant makeup.
Ingredients:
Poe(30) sorbitol tetraoleate, Isopropyl myristate, 2-ethylhexyl palmitate, Mineral oil, Melaleuca alternifolia, D&C green 6, BHA, Propylparaben.


PROS:
– I like the bottle, it doesn't leak, has a screwed on cap and has a normal hole stopper on top of the bottle so you can easily pour it on a makeup pad for easy removal.
– Has a nice soft scent of green tea
– Does remove makeup, even waterproof makeup


CONS:
– I found it to be quite oily for my taste, where you can still feel it on your skin afterwards. Even though no additional rinse or wipe off is required after you remove your makeup, you can feel an oily residue left behind.
– Even though it does remove makeup, including some waterproof makeup, I felt like it was more of a struggle to make sure it really removed every last trace of makeup (had to constantly put more of the product on another makeup pad).


Overall: I currently use Neutrogena's Eye Makeup Remover Pads and I prefer that because it's less mess and you don't need to always carry the makeup remover and pads, it's an all-in-one and easy to use since it's already on each pad, just wipe and toss. And the best part is that it does not have an oily feel and you do not have to rinse anything off after. With the NYX remover, I just found it to be a tad but too oily for me and felt the need to wash my face or hands after because of that oily feel. I did like the soft scent of green tea and that the bottle wasn't overly huge, but I would not re-purchase this for myself. And the fact that it's $10, there are tons of other makeup removers out there that are cheaper and probably aren't as oily.