Hey ladies! My friend Lannet who also does YouTube vids started up her blog again, so kindly support and check her out here!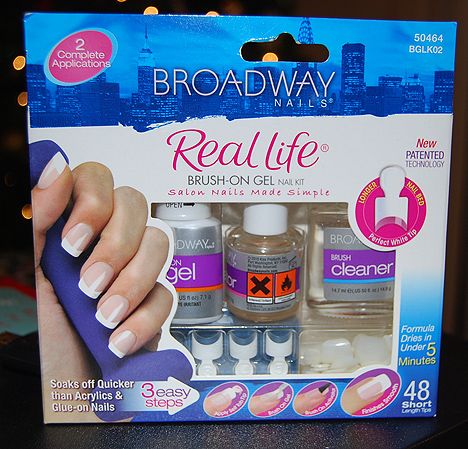 Product: 2 out of 5
Packaging: 4 out of 5
Quality: 2 out of 5
Overall: 2 out of 5
Would I buy again? No
Price: $10, Walmart
I went to Walmart around Christmas last year and bought the Broadway Nails Brush On Nail Kit, and finally decided to use it a few weeks ago. It was $10 for the entire kit, and even though I haven't been a fan of press on/glue on nails because I can never keep them on, I decided to give these a try because they were similar to acrylic nails and I liked how they didn't have the cheap plastic look.
So how did these fare? Read on!
Their description:
Mistakeproof Brush-On Gel is perfect for beginners. Patented gel formula is easy to apply – simply brush on. Your nails will be smooth and shiny without buffing. Salon fabulous results…no UV light, no odor, no appointment necessary!

Kit Contains:
Brush-on Gel, Brush-on Gel Activator, Brush Cleaner, 48 Self Tab Natural Nail Tips in 14 Sizes, Mini File, Manicure Stick
PROS:
– Instructions were super easy to follow, and it was easy to do
– Looks professional (if you file it down a bit)
– Great for a few hours if you are pressed for time and need a quick look
– Kit comes with cuticle sticks, a file, and clear nail tips which helps
– Tips are easy to apply and remove, they are also numbered to help you achieve the right size
CONS:
– Not all of the nail tips fit every nail bed, I had a hard time finding the perfect size for my thumbs
– They don't have extra tips of each (white and clear) in case you make any mistakes
– The gel is kinda hard to remove, takes a lot of patience
– Smell is kind of strong
– Most of the nails on my right hand came off the next day, granted it's my dominant hand, I felt they came off too quickly, the ones on my left hand were intact, but ended up taking them off so I wouldn't look funny, and for the record I didn't do anything crazy for them to fall of, they just did.
– If not filed down correctly, you can see the bottom of the tip (and they tell you that you DON'T need to file down to even the surface, but you really do!)
Overall: These have the potential to be doable if they were better made, however the fact that they didn't even last a full day was disappointing. It seems like the gel layer doesn't dry as thick to hold onto the tips so they rip off so easily; but the instructions don't recommend you apply more, so you sorta have no choice. They looked nice on, as if I got them done at the salon, but I ended up taking them all off as soon as a few nails came off because they don't have any extras I can use for touch-ups, and didn't wanna look silly walking around with one hand full of nails! The kit itself I gave 4 stars because I liked that they also included a file and cuticle sticks, which came in handy especially if you are doing this while traveling, etc. So I don't recommend these for long-term use, i'd rather pay an extra $10 and get actual acrylics on, but if you are just looking for a quick look for a few hours or for the night, these would suffice.
Easy to follow instructions: