CLICK TO ENLARGE

See video on How to clean your beauty sponge.
Many of you have asked me for awhile now to compare both the Beauty Blender Sponge and the Sonia Kushuk version from Target, so I finally got around to it! It's hard sometimes to do requested product reviews because 1.) 90% of the time the products I review are out of my own pocket, so if it's pricey I'll wait to try it because 2.) I have similar products I have to finish first before I go buying another one (such as liquid foundations, I have like 3 different brands so I better finish at least 2 of them before buying any more!)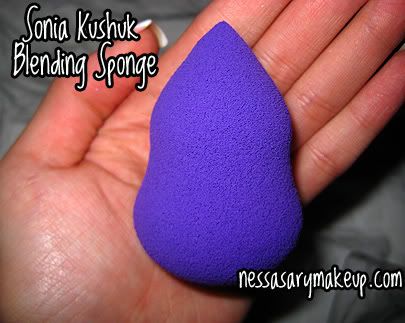 Anyway, I bought the Sonia Kushuk one the other day at Target for a nice and economy-friendly price of $10! I wanted to get a "backup" for my makeup bag, and even though I have a brand new Beauty Blender Sponge I could use; I didn't want to risk losing it since they are expensive, so I figure the Sonia Kushuk one is just as good and at least if I lost it I won't feel as bad! We all love good deals anyway, so I just had to try it.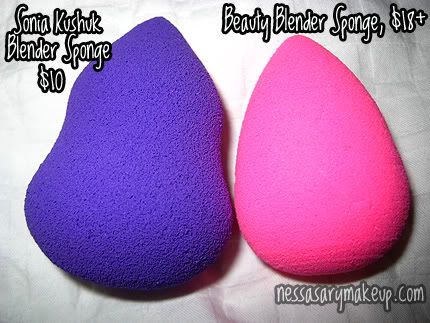 These 2 sponges have A LOT of similarities they could seriously be twins. First of all, look at the packaging, they are pretty similar although the Beauty Blender Sponge has its own stand that you can use to store your sponge or use it to dry after washing, and is more aesthetically pleasing (I am a sucker for polka dots), while the Sonia Kushuk is simple and basic. The sponges themselves are also identical in size and feel (althought the SK one seems a bit more dense and a tad bit more sturdier), and almost have the same egg-shape. They are both soft, squishy, and just as flexible; not to mention easy to wash. You can use baby shampoo or Dr. Bronner's Pure Castille Soap available at CVS, Target, or even from my good friend Robyn at Purely Cosmetics who also sells the actual Beauty Blender Sponges! (CLICK HERE to watch video on how to clean these beauty sponges).

The only noticeable differences I can say is: 1.) The Sonia Kushuk one only costs $10 whereas the Beauty Blender Sponge starts at around $18+, and that's not even including the Beauty Blender Cleaner, that's just the sponge. 2.) The Sonia Kushuk sponge has an almost plastic-manufacturer type smell, nothing foul or anything like that but you can definitely smell like it's "new" whereas the Beauty Blender Sponge has no smell at all. 3.) The Beauty Blender Sponge comes with it's own cleaner that you can purchase with a sponge or separately, whereas Sonia Kushuk is just the sponge (but you can easily use the products I mentioned earlier) 4.) The Sonia Kushuk one seems much more thicker than the Beauty Blender Sponge, and not as light; could be perhaps that it's still new and hasn't been broken in, but nonetheless, this is great because it gives more control when it comes to stippling liquid foundation on your face or even applying mineral foundation wet for an airbrushed look. Simply spritz some water or MAC Fix+ spray onto the sponge, then into your mineral foundation. Then gently dab across your face till you reach your desired coverage. You don't want to wipe it across your face because this will cause streaks which you want to avoid.
Does the slight difference in shape make a difference? I honestly didn't notice any dramatic difference in terms of the shape affecting the way this sponge performs, like I said before, the Sonia Kushuk sponge seems a little bit more thicker and wider at the bottom which probably makes this the better sponge for applying liquid foundation because there is more surface area so you cover a lot more. It's also pointed at one end like the Beauty Blender Sponge to help conceal or apply foundation in hard to reach areas like the sides of the nose, inner corners of the eyes, etc. I think the slight indentation on the Sonia Kushuk sponge is genius as it gives you somewhat of a "grip" so you can hold the sponge better, again giving better control.
Is this a good dupe? Yes.
Overall? The Sonia Kushuk blender sponge is an AMAZING dupe to the Beauty Blender Sponge. Definitely worth $10 in comparison to $18+ and if you have a Target near you, you save on shipping since the Beauty Blender Sponge isn't accessible everywhere in terms of actual stores (that are near me anyway), and the ones that are, jack up the prices on it! I definitely recommend it to all of you who have never tried it or even those of us who already have Beauty Blender Sponges and are looking for a cheaper alternative when it comes time to replace 'em. I know I will definitely be buying this one from now on!