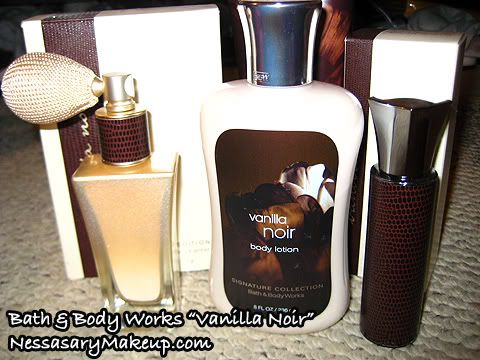 I recently got a perfume for Christmas from Bath & Body works called "Vanilla Noir" and I loved it so much I ended up going to the store and buying a few other products that had that same scent. I bought another travel spray that I can take along in my purse, a body cream, and a sparkling powder spray which sprays subtle fine gold colored glitter, making it perfect for a night out.
Described as: A tantalizing scent that transforms Madagascar vanilla into pure glamour.
Fragrance Top Notes: Living Black Plum, Exotic Dark Berries, Bergamot
Fragrance Mid Notes: Silky Gardenia, Purple Carnation, Vanilla Orchid, Tuberose Mist
Fragrance Base Notes: Living Vanilla Bean, Vanilla Extract, Whipped Toffee, Cinnamon Stick, Cashmeran, Sandalwood, Sensual Musks
So if you are looking for a new scent or just love Vanilla in general, definitely check this scent out at your nearest Bath & Body works!